Human and veterinary medicine together in the fight against cancer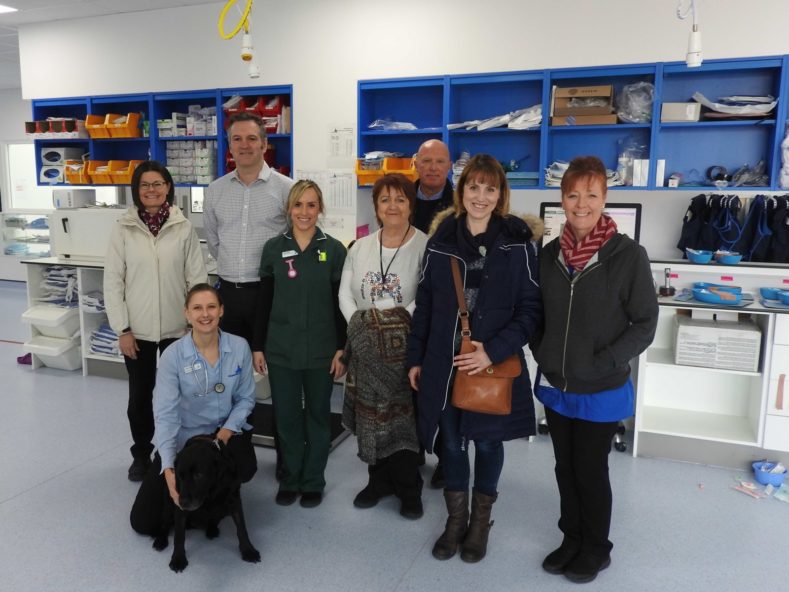 On 17th March 2017, Fitzpatrick Referrals Oncology and Soft Tissue invited a team from St Luke's Cancer Centre at the Royal Surrey County Hospital in Guildford, Surrey to break down barriers between human and veterinary oncology. This is another important step for Fitzpatrick Referrals, whose goal is to forge closer links with human medicine and share expertise in the fight against cancer.
Clinical Director of Fitzpatrick Referrals Oncology and Soft Tissue, Professor Nick Bacon led a tour around the hospital's facilities to share knowledge on diagnostic imaging, surgery and chemotherapy treatment for veterinary patients. The team also had the opportunity to participate in ward rounds whereby each in-patient is discussed and their care plan is reviewed amongst a team of clinicians, interns and nurses.
Nick said:
We are only a short walk away from St. Luke's Cancer Centre and the Royal Surrey Hospital and building these relationships has always been a key part of our vision. I was really pleased this visit worked out so well. We have already adopted some of the ideas we observed at St. Luke's and I hope we gave the 'human' team some things to think about too.
The team consisting of nurses, admin staff and a nutritionist were invited by Sarah Holliday, Senior Medical Oncology Nurse at Fitzpatrick Referrals, following her visit to the St Luke's Cancer Centre along with Emily Ryder, Staff Oncologist.
Sarah said:
I was lucky enough to visit St. Luke's Cancer Centre at the Royal Surrey County Hospital and spend the day with the dedicated and amazing team. This week, I returned the invite and some of the team came to visit Fitzpatrick Referrals Oncology and Soft Tissue. They were impressed and moved by our facilities and level of care for our patients. I am proud to be able to say I have met their team and I am continuing to build a strong bond between our hospital and the human oncology facility. This will allow us to continue to expand our service and ensure we deliver the highest level of care possible. We are discussing the options to combine forces to help develop patient care for both animals and humans.
Lead Chemotherapy Nurse at St Luke's Cancer Centre, Paula Deery said after the visit:
We must convey a huge thanks to Sarah and the team for enabling our visit today, and especially to Nick for the very generous giving of his time to show us around. We've been so touched by the visit from many aspects; the wonderful environment, professionalism of the staff and the level of detail considered for the environment in which the animals are cared for. We were very privileged to be able to participate in the ward round, listening to the handover between staff and compare the similarities between our worlds as well as seeing the surgical areas.

We have taken many ideas back to our hospital with the recommendation that senior managers need to visit to see the layout alone, as that must be so conducive to workforce well-being. I have also spoken with one of my medical colleagues, a clinical oncologist, who would be very interested in supporting any clinical oncology developments with Fitzpatrick Referrals. There are many similarities in the work we do and I sincerely hope we may be able to work more collaboratively in the future.
Photo gallery
Founder and Managing Director of Fitzpatrick Referrals, Professor Noel Fitzpatrick, has been instrumental in bringing the concept of One Medicine to the fore in the UK, a concept which is at the heart of Noel's mission and the cornerstone of The Humanimal Trust, the charity he has founded to reconverge human and animal medicine and facilitate the cross-pollination of expertise and ideas. Find out more: Humanimaltrust.org.uk
Find out more about Fitzpatrick Referrals' Oncology Service.