Happy New Year by Professor Nick Bacon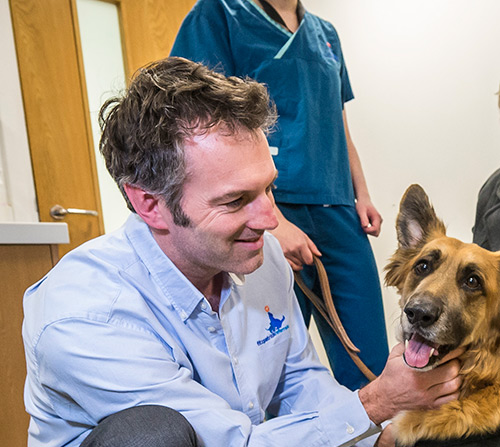 We all remember cases that get beneath our skin. There are cases that challenge our scientific intellect, cases that teach us the art of veterinary medicine, cases that unite practices, and those that create conflict within them, cases that teach us something about ourselves and cases that throw light on life itself.
Oncology and Soft Tissue at Fitzpatrick Referrals has seen over 500 patients in its first year; initially in Eashing at the Orthopaedic and Neurology hospital, and from September 2015 at the purpose-built Oncology and Soft-Tissue hospital at the Surrey Research Park in Guildford.
For most of that time we were treating a remarkable dog called Sadie for multicentric lymphoma. Sadie was a German Shepherd bomb-detecting dog in the British Army and did tours in Afghanistan, Iraq and Ireland. She lived and trained in the Aldershot barracks with her trainer Roy, who described Sadie as 'army barmy'. Roy never missed an appointment and Sadie would walk in carrying her ball in her mouth to receive all the fuss and attention from the Front of House team, while Roy equally enjoyed the fuss and attention from the same, coincidentally entirely female, team. All who met Sadie and who worked with her in the field knew and understood how many lives she had saved, and how much of a true hero she was in every sense of the word. She would run the assault course with her company throughout her chemotherapy, and we would receive GoPro images of her swimming in lakes the day after her doxorubicin. For her it was all part of the game and what she loved and lived for. The Taliban suicide bombers regularly use mopeds as their vehicle of choice and Sadie was trained to respond to their sound, causing Roy to recount just a few months ago how Sadie had dragged him out of his bed onto the floor in the middle of the night because a moped had stopped by a traffic light outside the barracks. She was always on duty. As far as Sadie was concerned, Roy was safer. Job done. Sadie eventually came out of remission and despite re-induction by our Medical Oncologist Dr Kelvin Kow, she sadly failed to respond and Roy knew she had run her last run, caught her last ball and played her last game. We said goodbye on Saturday 12th December.
Since opening our doors, every patient has been a variation on Sadie. Some patients we meet for an hour, discuss end of life matters and wish them well knowing we are here if they need us. Some take the whole practice on a journey and affect everyone, whether through advanced diagnostics and therapies or emotional support from those that give it best.
Everyone here was hand-picked from scratch with a lofty goal and common mission in mind. To look after the patient, support the owner in need and change the way we collectively look at cancer. In December we were able to share this vision with a group of visiting veterinary technicians from Japan who toured the hospital – they were grateful for the opportunity of a behind-the-scenes tour (plus mince pies) including a lecture from our Senior Oncology Nurse, Jess Barnes, on the path to specialisation within the veterinary nursing profession in the UK. The Oncology and Soft Tissue team is also extremely lucky to have found wonderful partners in Fiona and Jim Hindle of The Rumba Foundation, who are generously supporting cancer projects in Guildford in association with my position at the University of Surrey. Their fundraising has already provided a C-arm for use in small animal therapies and we are looking forward to a long relationship with them going forward.
As we enter 2016 I would like to thank everyone who has trusted us to be involved in their patients, whether a simple phone call or a complex referral. We will continue to do our best; to demystify their disease, and give hope to pets and clients through offering world-class options.
We wish you a very happy and very safe 2016.
Nick