A day in the life of a Senior Nurse Clinician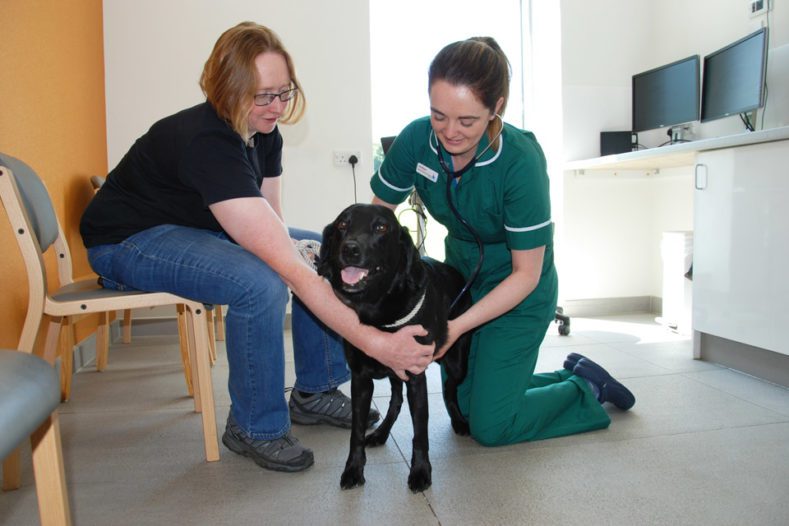 Senior Nurse Clinician Jessica Barnes works at Fitzpatrick Referrals Oncology and Soft Tissue hospital in Guildford. Jess has shared a typical day in her nursing role for World Veterinary Awareness Month 2018.
Check out our blog for more posts by the nursing team.
Introducing Jess
I am currently assigned to Laurent Findji, Senior Surgeon in Oncology and Soft Tissue, and I am responsible for the clinical flow of his patients requiring diagnostics, surgery and post-operative care. I also ensure that between myself, the specialist and the resident all daily tasks are completed, to not only ensure a high level of patient care but also help ensure client satisfaction.
Morning
I'm the point of contact throughout the day for our reception team, regarding any of Laurent's clients and primary care vets enquiring about existing patients. The purpose of this is so I can triage these calls so they are directed to the correct team member.
At 9am I attend the patient rounds with the clinical team to get a progress report on all patients staying in the hospital, and particularly those that are Laurent's patients. I will also obtain a list of all the patients that required any procedures that day.
Other tasks include checking all inpatient ward charts and records are up-to-date; ensuring the ward team is under control/appropriately staffed and inpatient care is of a high standard.
I work closely with Orla, our senior nurse floor co-ordinator, who is responsible for the clinical flow of patients through diagnostics and surgery, to discuss which inpatients require procedures and how we plan to co-ordinate that. I'm also the point of contact for Laurent's consulting team to ensure we can accommodate the diagnostic procedures they would like to perform on our patients.
In the morning, Laurent's patients begin to be checked into the hospital through primary consultations. I make sure they are correctly processed and checked into the hospital and obtain clear plans from him and his resident as to what they require during their hospitalisation stay.
I'll then liaise with Orla again to find out what time I can get diagnostic slots for Laurent's patients and decide which nursing staff members will be assigned to these patients.
Afternoon
After lunch, I perform an abdominal ultrasound on one of Laurent's patients – a Terrier cross with pancreatitis. The ultrasound scan indicates that we need to take him for emergency laparotomy surgery, so I anaesthetise our critical patient and prepare him for surgery. I stay with my patient for the entire afternoon and into the evening as he was a critical patient in recovery and needed constant attention. I then hand over his care to our ward nursing team.
Evening
In the evening, I prepare consent forms and diagnostic forms for Laurent's patients arriving the following morning for surgical procedures. I'll also liaise with Orla on the order of our surgical list.
I'll check for any outstanding tasks, which may include: contacting clients about their animals regarding concerns, scheduling Laurent's procedures, providing clients and insurance companies with estimates for treatment, patient drug prescriptions, facilitating internal patient referrals to other services within the hospital (e.g. medical oncology department).
Lastly, I'll check in with Laurent that there is nothing else he would like me to do before I leave for the day!
Our nursing team is currently recruiting. See our latest jobs.
Are you thinking of making the move to referral practice but perhaps aren't sure if it's right for you? Fitzpatrick Referrals offers opportunities for registered veterinary nurses to experience a day as a referral nurse at both Eashing and Guildford hospitals. Visit fitzpatrickreferrals.co.uk/jobs/