A day in the life of an Interventional Radiology Senior Nurse
Senior Nurse Jen O'Keeffe works at Fitzpatrick Referrals Oncology and Soft Tissue hospital and has written about a typical day in her role for Veterinary Nursing Awareness Month.
Check out our blog for more posts by the nursing team.
Introducing Jen
I am the Interventional Radiology Senior Nurse and work alongside Dr Gerard McLauchlan, our interventional radiology specialist. We start the day with ward rounds which allows us to catch up on the progress of our inpatients and for everyone to plan their days. We alternate between consulting days and days where we work up and treat our patients. We typically use ultrasound, endoscopy and fluoroscopy for diagnosis and treatment.
Recently, we saw a gorgeous 10-month-old Golden Retriever puppy who was suffering from urinary incontinence and was sent to us with a suspected ectopic ureter (a condition where the tube taking urine from the kidney to the bladder, doesn't enter the bladder in a normal position).
We anaesthetised her and performed an ultrasound of her urinary tract. This confirmed the suspicion of an ectopic ureter so she was then prepared for cystoscopy. This is where a camera is used to look at the bladder and urethra. We were then able to use a diode laser to remove the extra tissue and correct the problem without having any surgical incision. I prepared her for anaesthesia, monitored her anaesthetic throughout the process and then returned her to the ward and once she was awake enough, handed her over to the ward nurses to continue her recovery.
A few hours later, she was full of beans again and bouncing around her kennel. At this point she was ready to be discharged…she was happy to go home the same day and her family was pleased to see her walking out wagging her tail so soon after her procedure. The family contacted us a few days later to let us know that she was now completely continent.
Jen on her role, five years on
May 2022
I've been in this role for about five years now; it is quite a specialised role and my knowledge increased dramatically in a short space of time when I first took on the role, but I love that I still continue to learn things daily in a relatively new area of veterinary medicine in the UK.

Giving patients and their owners the possibility of minimally invasive treatment options is rewarding and it's exciting being involved in advancing the techniques available. I also really enjoy having the continuity of seeing cases all the way from consult, through their work up and treatment, to their post-operative check-ups, and creating a bond with our patients and their families.
Dr Gerard McLauchlan
Senior Clinician, Interventional Radiology
Interventional Specialist Nurse Jen O'Keeffe is such an important part of the team. Not only is she involved in the pre-procedural assessment of the patient but she also scrubs into the surgeries, communicates with clients and helps with follow up assessments.

Jen also takes charge of sourcing new equipment for all the novel procedures we are performing on a daily basis. The interventional radiology department would be a much less efficient service without Jen!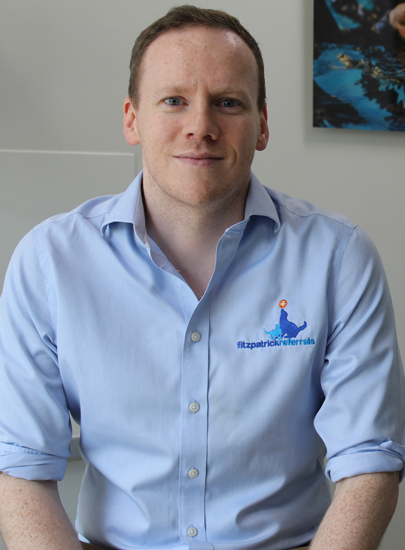 Thinking of making the move into referrals and keen to see if it's the right move for you?
We offer opportunities for RVNs to experience a day as a referral nurse at both Eashing and Guildford hospitals.
Our nursing team is recruiting – see our latest roles