Meet the team – Osteoarthritis Clinic
Our Osteoarthritis Clinic, based at the Fitzpatrick Referrals Orthopaedics and Neurology referral practice in Eashing, Surrey, is run by a team of dedicated professionals who all share their expertise to ensure a comprehensive and multi-modal approach to osteoarthritis is available to your clients and patients – all managed under one roof.
We are delighted to welcome Dr Pete van Dongen to Fitzpatrick Referrals who has joined the team as Lead Vet in Sports Medicine and Rehabilitation.
I am extremely excited to be involved in this world-renowned veterinary practice, where ground-breaking treatment methods are continuously being used, developed and perfected, where the facilities are second to none and where the staff are totally dedicated to the very best care for all their patients – giving them superb veterinary care, but most importantly, hope and love.
Meet the team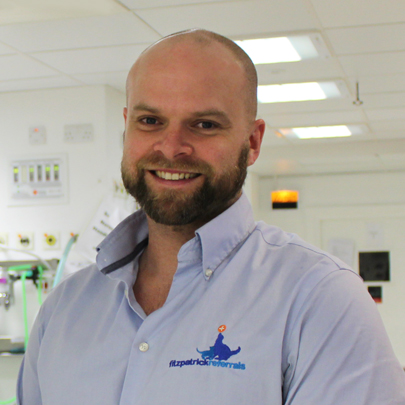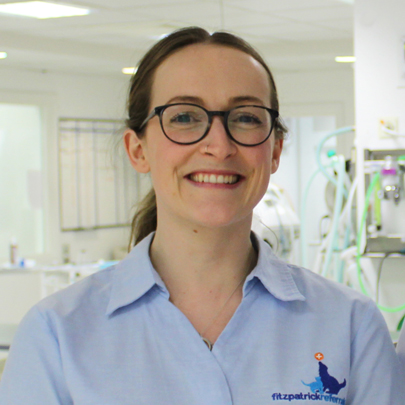 Cameron Black
BVMS MVetSci PhD MRCVS
Clinical Research Officer
Cameron graduated from the University of Glasgow in 2008 and worked in general practice for four years before entering research to pursue an interest in stem cell biology and regenerative medicine. Cameron completed a PhD investigating the characterisation and application of musculoskeletal stem cells in human tissue engineering before joining Fitzpatrick Referrals in 2017.
Alongside Professor Noel Fitzpatrick, Cameron leads on the design and implementation of stem cell based regenerative therapies available through the Osteoarthritis Clinic.
Fraje Watson
BSc (Hons) MRes RVN
Clinical Research Coordinator
Fraje worked at Fitzpatrick Referrals as a Surgical Auxiliary in 2009 and returned to the team part-time in 2012 following her qualification as a Registered Veterinary Nurse. Fraje completed her BSc (Hons) Veterinary Nursing at the Royal Veterinary College and began working full-time as a veterinary nurse.
Fraje has a strong interest in clinical research and completed her Research Masters at the Royal Veterinary College in September 2017. Fraje is now the Clinical Research Coordinator at Fitzpatrick Referrals and provides front line support to our new Osteoarthritis Clinic.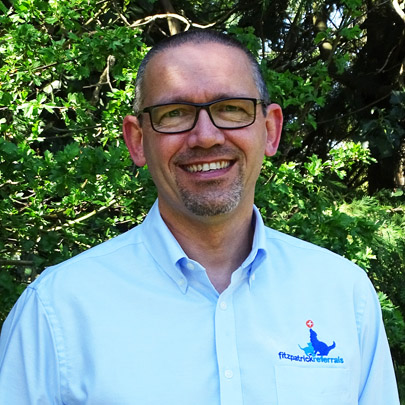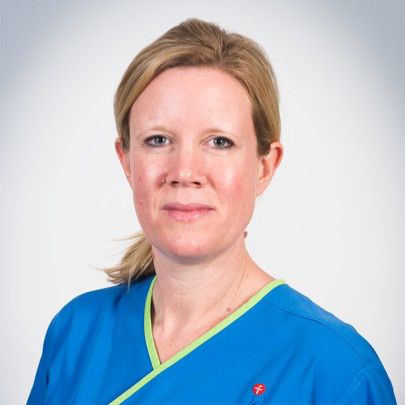 Pete van Dongen
DVM CertVR MRCVS CCRT
Lead Vet in Sports Medicine and Rehabilitation
Pete is an experienced veterinary surgeon who qualified from the Faculty of Veterinary Medicine, State University of Utrecht in The Netherlands in 1990. Pete obtained his RCVS Certificate in Veterinary Radiology in 1996 and has been a CRI (Canine Rehabilitation Institute) Certified Canine Rehabilitation Therapist since 2014.
He has spent the last 28 years in general small animal veterinary practice, first as an assistant, then as an associate and over the past years as a director and practice owner. During this time, his main interests have been radiology, surgery (both soft tissue and orthopaedics), rehabilitation and sports medicine.
Fiona Doubleday
BSc (Hons) MRes RVN
Rehabilitation Team Leader
Fiona graduated as a Chartered Physiotherapist in 1994 and worked in the NHS and in private sports clinics until 1997. Fiona underwent post-graduate training to specialize in physiotherapy for animals in 1997 and was based in Hampshire, although it took her all around the country to study alongside different vets and physiotherapists. Once qualified as a Cat A ACPAT Veterinary Physiotherapist, Fiona developed her own successful animal physiotherapy practice for many years and indulged her craving for more knowledge by travelling to the USA on several occasions to attend specialist courses in neurology and neuro-orthopaedic practice.
Having worked with Professor Noel Fitzpatrick since 1998, she joined Fitzpatrick Referrals in 2007 when the practice in Eashing opened. She took on the role of Rehabilitation Team Leader in September 2012. Fiona now enjoys a mix of clinical and non-clinical work, leading the team of physiotherapists and hydrotherapists.