A day in the life of Senior Medical Oncology Nurse Sarah Holliday
Senior Medical Oncology Nurse Sarah Holliday works at Fitzpatrick Referrals Oncology and Soft Tissue hospital and has written about a typical day in her role for Veterinary Nursing Awareness Month 2019.
Introducing Sarah
I have been nursing for over 11 years and working for Fitzpatrick Referrals Oncology and Soft tissue hospital for over three years. I have been working alongside the medical oncology team for the last two years and receive a great deal of job satisfaction every day. I thoroughly enjoy working alongside such as positive and talented team and getting to help such lovely clients and their families.
My role within the team is to provide client support and ensure all aspects of chemotherapy are done safely, always delivered to a high standard of care and ensuring animal welfare is maintained throughout each visit.
Morning
My typical day begins by admitting patients for chemotherapy. I work closely with families to help them monitor their dog or cat during chemotherapy administration, so they can look out for common side effects and changes in their behaviour at home.
I prepare each patient for treatment by taking blood samples, running tests, placing intravenous cannulas and performing clinical examinations- weight, heart rate, respiratory rate, temperature and recording sizes of masses and lymph nodes.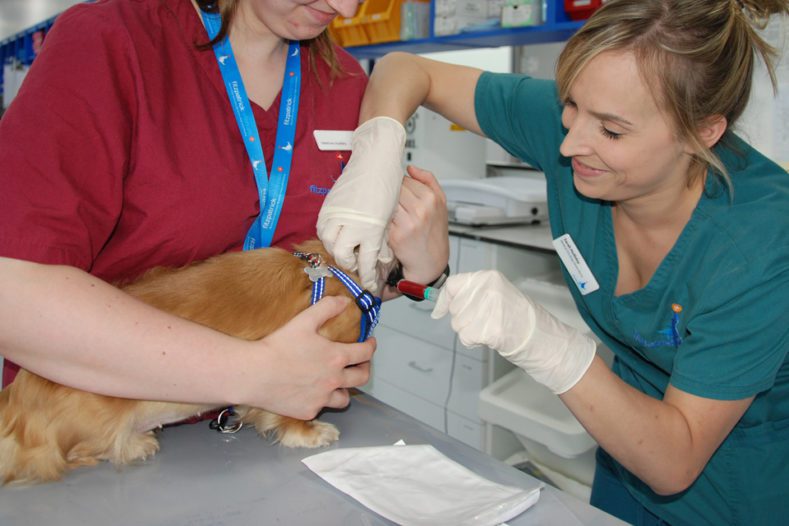 I assist the oncologist in determining treatment plans, calculating drug doses and administering chemotherapy and other medication used in the treatment of cancer in animals.
Afternoon
During my day, I also perform diagnostic tests to stage our cancer patients. This includes ultrasound, CT scan, radiographs and endoscopy. I often perform general anaesthesia and assist the oncologist by preparing equipment for samples to be taken to aid diagnosis.
Evening
A large part of my day-to-day role is client support. I communicate with clients both via telephone and email, offering advice on common side effects following chemotherapy and how they can best support them during treatment. I take pride in delivering a high standard of service and spend lots of time supporting clients and patients during end of life stage care. I really enjoy building a strong relationship with both the patient and their family and feel it is very important to provide a friendly and trusting bond.
Palliative care is a difficult part of working within oncology but I feel privileged to be able to support and help clients and their much-loved animal friends at this difficult time.
I really enjoy seeing all of our patients each week and always make sure they have a positive, fun visit. I especially love it when even the originally nervous patients return eager for affection and wagging their tails on arrival.
Our nursing team is currently recruiting. See our latest jobs.
Are you thinking of making the move to referrals but perhaps aren't sure if it's right for you? Fitzpatrick Referrals offers opportunities for registered veterinary nurses to experience a day as a referral nurse at both Eashing and Guildford hospitals. Visit our Experience Day page for more information.