Q & A with Medical Oncology Intern Marianne
Fitzpatrick Referrals benefits from a talented team of interns who work alongside our specialists and patient care team to improve their understanding of specialist treatment in their chosen disciplines. Our interns are qualified veterinary surgeons undertaking a 12-month supervised placement.
Marianne completed her medical oncology internship programme in March this year and continues to work at Fitzpatrick Referrals Oncology and Soft Tissue hospital in Guildford. Here she shares her experience in this Q & A.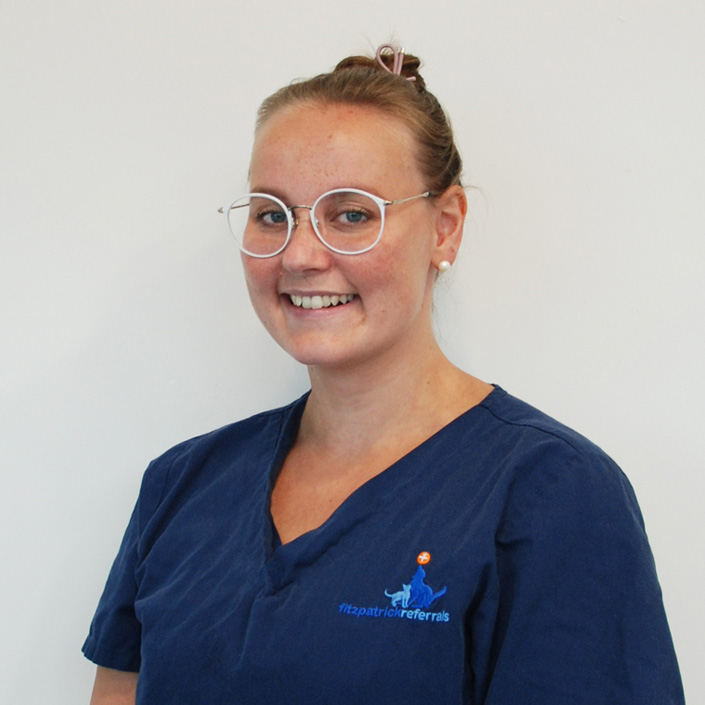 NAME: Marianne Lappalainen
AGE: 34 years old
JOB TITLE:  Medical Oncology Intern
HOMETOWN: Helsinki, Finland
UNIVERSITY: Estonian University of Life Science
Which internship programme did you do at Fitzpatrick Referrals Oncology and Soft Tissue?
I joined the 12-month medical oncology internship programme in April 2019.
What were the most important factors for you when choosing a practice to apply to?
The knowledge, the compassion and the standard of care for the patients.
What made you decide to do an internship at Fitzpatrick Referrals?
I had been looking for an opportunity to broaden my knowledge in medical oncology and was familiar with the surgeons and medical oncologist at Fitzpatrick Referrals, and knew I would love to learn from them.
Talk us through a typical day as an intern on your particular programme
Every morning we start with rounds, where we go through the cases for the day with the team. Then depending on the day, I am either seeing new patients or seeing chemotherapy patients. After the daytime duties, we continue with paperwork and have evening rounds.
How have you found the internship?
The internship has been a learning curve, with most days bringing something new, exciting and fun to learn.
What have been your highlights so far?
It is hard to pick a special highlight as the whole journey of being an intern, from meeting great people to becoming a member of an amazing team, has altogether been more than I could have hoped for.
Were there any tough moments?
Due to the nature of medical oncology, it's very sad losing patients to their disease. Particularly as in this role we're fortunate to build good relationships with our patients and clients over the course of their treatment with us.
What skills do you feel you have developed as a result of your internship?
My internship has improved my skills in teamwork, leadership and working independently.
What are your plans now you have completed your internship?
A long term goal, and the reason for leaving my home and family in Finland, is to become a specialist. Hopefully, with that knowledge, I will be able to provide the special and excellent quality of care for my patients, and to share and further teach my colleagues and veterinary students.
What would you say to a vet considering doing an internship? Do you have any advice as to how they can make the most of it?
An internship is a journey of learning closely from specialists, a nursing team and to be able to broaden your knowledge in a unique setting. By working hard, showing interest and initiative you will walk away with a great experience, a lot of knowledge, friendships and memories that will last a lifetime.
See our jobs page for more details and our current opportunities.