Rags' story – urinary obstruction
Rags is a loving nine-year-old wire-hair fox terrier who lives with the Davis family. He was referred to Fitzpatrick Referrals Oncology and Soft Tissue as he was unable to pass urine normally. Rags' family haven't left his side as they have needed to drain his bladder multiple times a day, every day for seven years.
As a young dog, Rags developed an obstruction of his urethra caused by stones in his urinary tract. He unfortunately developed a stricture (scar tissue) in his urethra after initial surgery which resulted in Rags being unable to pass urine normally. To help Rags to pass urine, a tube with an open/close valve was placed directly into his bladder but it did not ever function properly. As Rags has been unable to empty his bladder fully, he has also developed several urinal tract infections and has been on long-term antibiotics.
Clinical Director of Oncology and Soft Tissue, Professor Nick Bacon admitted Rags and performed a contrast fluoroscopy which showed the stricture in the urethra. Fluoroscopy is a procedure to view internal structures using X-rays to produce live imaging. The moving X-rays are beneficial to visualise tissue and internal organs while they are in motion. Using a fluoroscopic C-arm, we can perform minimally invasive surgeries such as opening an obstruction or delivering targeted chemotherapy. Nick sought the assistance of Dr Gerard McLauchlan, Senior Clinician in Interventional Radiology, for surgical planning and execution.
Interventional Radiology combines imaging such as fluoroscopy and scopes to gain access to structures within the patient's body. Gerard is a leading, world-class specialist in Interventional Radiology and for cases such as Rags, is able to provide new treatment options for patients where conventional therapies are not available or where the benefits do not exceed the risks.
Gerard and Nick manipulated a 0.014 micro-guidewire across the stricture using fluoroscopy, with instrumental help from Radiographer Sally Morgan. A laser-cut nitinol stent was guided over the micro-guidewire into the correct location spanning the stricture. Once the stent was positioned correctly, it was then deployed and the stricture was seen to open under fluoroscopy. Gerard and Nick flushed contrast up Rags' urethra which easily passed across the stricture through the stent.
Rags was admitted overnight following the surgery for close observations. Within a few hours of the stent being placed, he started to pass urine normally – this was the first time Rags had passed a normal stream of urine in seven years!
The following morning, Rags had improved enough to be allowed home with a short course of antibiotics and anti-inflammatory medication. Since then, he has been able to empty his bladder himself and passing urine normally. The Davis family no longer have to drain his bladder for him.
Rags is continuing to recover well and able to exercise regularly because the procedure was minimally invasive, meaning the recovery time was almost zero. He is being closely monitored by the Oncology and Soft Tissue team with follow-up appointments scheduled to assess urine culture and stent position. The Davis family are a remarkable example of the dedication and perseverance families provide for their animal friend, and together with the team of surgeons, radiographers, veterinary nurses and auxiliaries there has been a true transformation of their lives and Rags'.
Rags is a lovely dog with an amazing dedicated family. It has been wonderful to be able to help Rags and Ms Davis when they had been told multiple times that there was nothing that could be done. Interventional Radiology offers us new and exciting ways to treat patients like Rags and offer new treatment options to many of our cases.
Dr Gerard McLauchlan
Rags' mum, Judy
The first 17 months with Rags were normal and fun, everything anyone would expect with a lively wire hair fox terrier pup. Then out of the blue, Rags developed stones in his bladder and needed emergency surgery. He had a small valve placed in his abdomen, and for over seven years has needed his bladder drained three times a day as he could only wee a few drops.

Various complications meant he has had to deal with nasty allergies and constant bladder infections. He has been on antibiotics for years and seen many vets, and coped bravely with so many setbacks. I thought he had run out of options, but our family vet spoke to Fitzpatrick Referrals and between them, they had other ideas.

He came in and for the first time the exact problem was revealed, a narrowing of his urethra close to the bladder. Next was a procedure which didn't work. Disappointing, but Professor Nick Bacon said "I'm not giving up" and Rags came back for another try with him and Dr Gerard McLauchlan. A tricky operation, but this time it worked and Gerard managed to place a stent in the damaged part of Rags' urethra. That evening Rags peed for the first time in seven years.

Rags is now nine. The combination of state-of-the-art equipment, brilliant professional expertise and unshakeable optimism has transformed his life and meant he now has a future. He should be bouncing around happily until he is 14 or 15, all thanks to the team who were determined to try their absolute best and not to give up.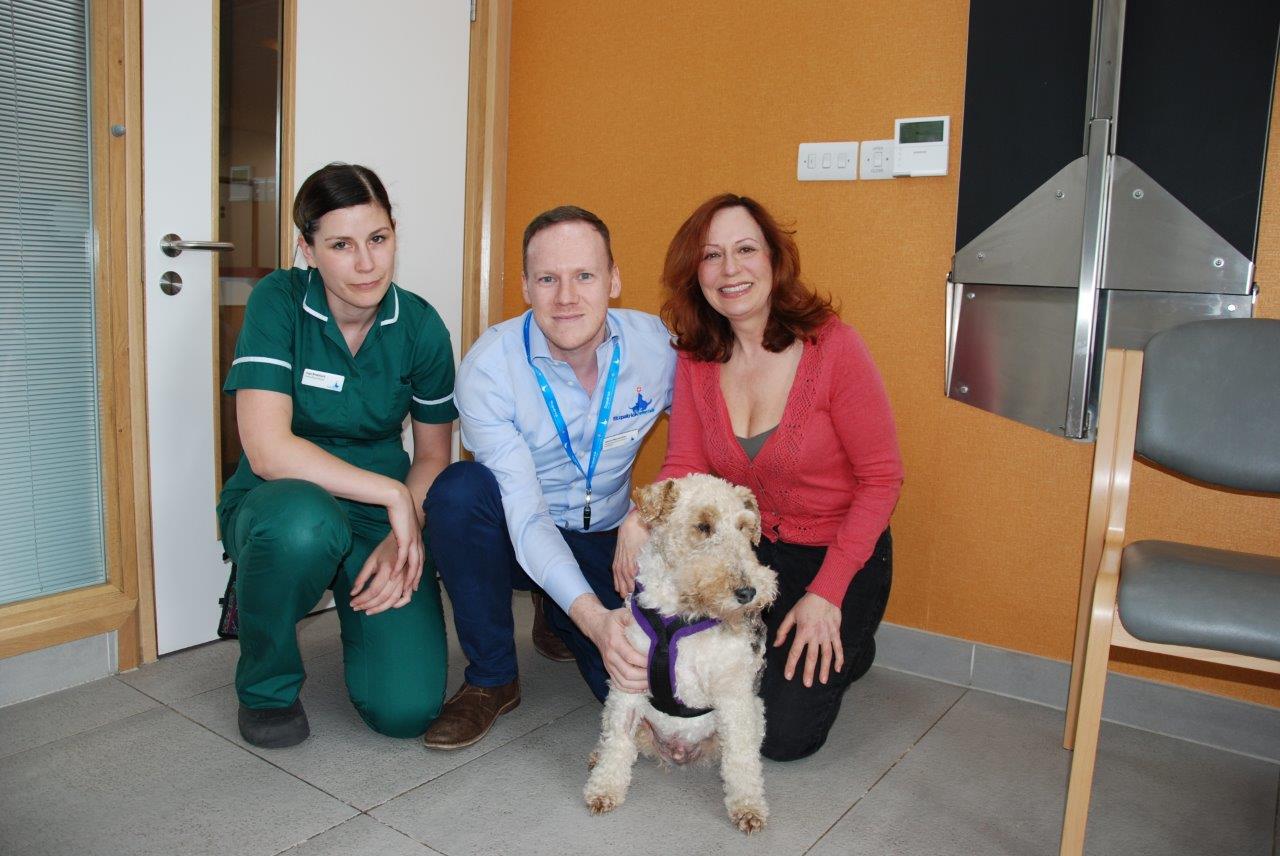 Rags with mum Judy, Doctor Gerard McLauchlan and Senior Veterinary Nurse Inge, ready to go home!