Rudi's story – spiral fracture repair
We're looking back at the patient story of Rudi, who in April 2016 aged seven months old, suffered a spiral fracture to her leg and was referred for specialist orthopaedic treatment at Fitzpatrick Referrals. Two years later, fully recovered, happy and enjoying life, Rudi's mum Toni shares her story.
By Rudi's mum, Toni Heath
If only I could turn back time
My husband had taken Rudi and my then 8-year-old son Noah to the local park. He threw the ball for her, but instead of Rudi returning it to my husband she ran after my son who was running in the opposite direction. Skidding into the back of his legs, Rudi completely wiped him out and Noah skidded on the wet grass and fell on top of her.
I got a call at home and rushed over there to find a scared screaming dog, a shocked stunned husband and a son crying his eyes out. I picked her up and her front leg just flopped to the side and she was wailing in pain. After a visit to the emergency vets, and then a follow up the next day to our normal vets, it was decided the best course of action and a better recovery for her would be to transfer her to Fitzpatrick Referrals.
Surgical Registrar, Susan Murphy said: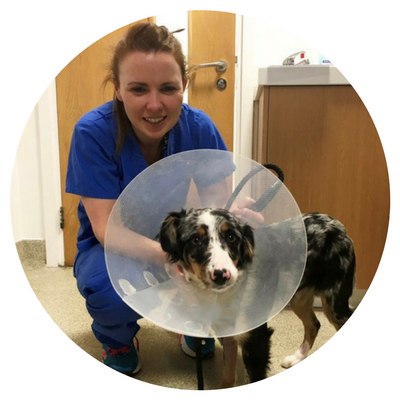 When Rudi arrived at Fitzpatrick Referrals we took x-rays, which showed that she'd sustained a nasty spiral fracture to her humerus. In surgery, I repaired her fracture with a plate and pins and Rudi returned home for the long 6-week recovery ahead.

Rudi was an adorable puppy and I'm so pleased to see that two years on she's running about and enjoying life.
Rudi's x-rays – before and after surgery
The long road to recovery
The recovery was long. Very long. It would be bad enough for any 7-month-old pup, but an energetic collie was going to be tough.
Rudi was only allowed out in the garden for a wee and in the house she had to be kept on a short lead.
I took advice from not only Fitzpatrick's vets and nurses but also another collie owner who competes at agility and who had been through a similar incident with one of her dogs. She gave us loads of tips on preventing boredom but it was so incredibly tough. Brain games with treats under a cup; 'touch' games as a starter for agility; lots of cuddles.
She eventually settled into her life of confinement but she did look sad.
Loving life!
She absolutely loves life now. That first walk after being 'released' was crazy. She ran and ran and ran high pitched barking the whole time. Sheer freedom. Although she still does the excited bark for 5 minutes continuously until we've settled into her walk.
We are fortunate to live between the sea and the South Downs where we walk her all the time. A year ago I started taking Rudi to a local agility club and she is proving to be a quick learning natural at it. And very very fast! I've had to up my game to even get up to half her speed!
She enjoys mind games too and adores her balls. She also has an instinct to comfort anyone who she hears crying; trying to lick their tears away.
Looking back
I have only positive things to say. From the lovely ladies who calmed me down when I was balling my eyes out, to the regular updates from her surgeon Susan Murphy and the nurses while Rudi was staying at the practice.
We were reassured from the first consultation we had when we brought her in; we were hugged and consoled and even Noah who we brought with us felt happier knowing that she was in the best possible hands for her treatment and recovery.
All return appointments we had were always an encouraging experience and all the staff were wonderful. We have so much praise for everyone.