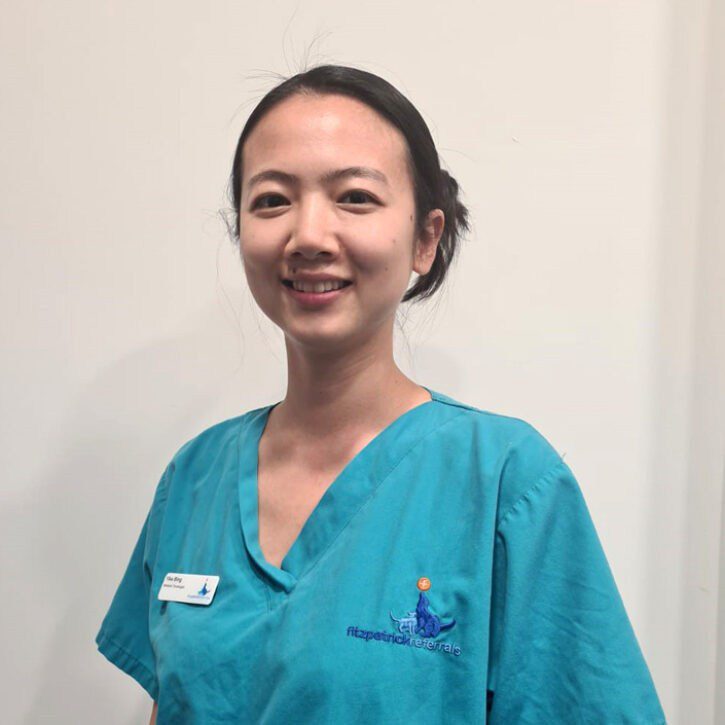 Specialist areas
Dr Yike Bing
Senior Clinician, Medical Oncology

/

DVM DipACVIM (oncology) MRCVS
Dr Yike Bing received her Doctor of Veterinary Medicine degree from Cornell University (New York, USA) in 2016.  She then completed a one-year rotating internship at University of Wisconsin-Madison (USA) in 2017, followed by a three-year residency programme in medical oncology at Cornell University. She became a Diplomate of the American College of Veterinary Internal Medicine, Specialty of Oncology in 2021.
Before joining Fitzpatrick Referrals Oncology and Soft Tissue in December 2020 as a Senior Clinician in Medical Oncology, Yike worked briefly as a medical oncology instructor at Cornell University, College of Veterinary Medicine. Her research focused on the impact of DNA damage and repair on chemosensitivity of solid tumours.
She enjoys working with all cancer patients using a multimodal approach, focusing on quality of life and tailoring treatment to meet the need of individual patients and their families.
Publications
Research authors: Y Bing, Z Wund, T Abratte, L Borlle, S Kang, T Southard, KR Hume
News