Bobby's Story – Urinary incontinence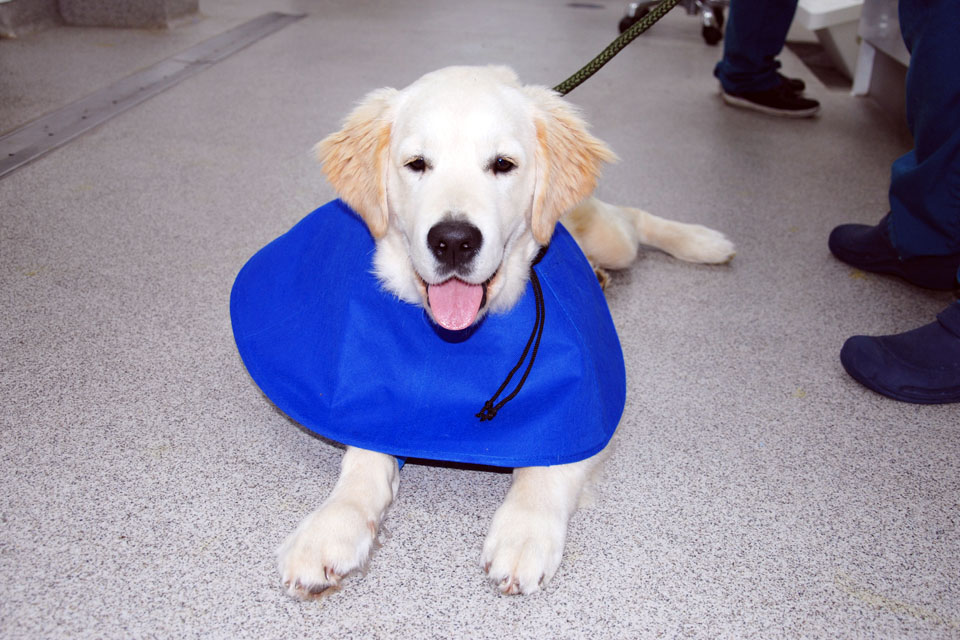 6-month-old Bobby is a friendly Golden Retriever who was referred to Fitzpatrick Referrals Oncology and Soft Tissue hospital due to his ongoing urinary incontinence which his family had noticed since they collected him as a puppy.
Bobby would dribble urine around the house, so sadly wasn't able to visit friends houses or enjoy the comfort of the couch. During the family's initial consultation, Specialist in Internal Medicine and Senior Clinician in Interventional Radiology, Gerard McLauchlan discussed the possible causes.
Congenital ectopic ureters were discussed but these are very uncommon in male dogs compared to females. If male dogs have ectopic ureters they often are associated with strictures (narrowing) making their correction more difficult.
Traditionally correcting them would require an open abdominal surgery but at Fitzpatrick Referrals hospital in Guildford, we are one of very few centres in the world able to perform this via a minimally invasive approach.
Bobby had a CT scan which confirmed a unilateral ectopic ureter.
Bobby's minimally invasive procedure
Under anaesthesia, Gerard used a combination of ultrasound and fluoroscopy to guide a needle via his perineum into his urethra. He then passed a wire through the needle into his bladder, which then allowed us to then use dilators to open a tract in his perineum large enough for us to place a cystoscope into his pelvic urethra. As his ectopic ureter was associated with a stenosis (narrowing) we passed a small wire under fluoroscopic guidance to identify the opening of the ureter and laser corrected this into the normal location within his bladder.
Correction via this minimally invasive approach is currently only performed in a very small number of centres in the world.
Speedy recovery
Due to the minimally invasive nature of the surgery used for Bobby's condition, he was able to be discharged the following morning following his procedure. He was urinating normally and his family reported an immediate resolution of the incontinence!
There were no exercise restrictions needed, in fact, Bobby went straight to the beach to enjoy a holiday!
If traditional surgery had been performed then Bobby would have needed two weeks of strict crate rest until his abdominal wound had healed.
Bobby is now enjoying life to the full at home with his family and enjoying lots of cuddles on the couch.