Krico's Story – Prostatic Cancer

Introducing nine-year-old Cocker Spaniel Krico, whose story we shared to mark Cancer Survivors Day on Sunday 2nd June 2019. Krico is a real charmer with all the staff and one of his talents is to sing to us on demand!
Krico was sadly diagnosed with prostatic cancer in September last year and was referred to our oncology hospital by another referral centre, to explore treatment options available. 70% of prostatic cancer cases end up having urinary incontinence so many dogs aren't referred or treated by their vets who assume the outlook is too bad, or no options exist.
However, Krico has been having both intra-arterial (IA) chemotherapy and standard IV chemotherapy under the care of Specialist Gerard McLauchlan, which has reduced his prostate size by 30%. The benefits of IA chemotherapy is that it's delivered directly into an artery as close to the tumour as possible so we can maximise the amount of chemotherapy drug delivered to the cancer cells, whereas traditional chemotherapy has to pass via the heart and lungs before being delivered to the cancer and so is diluted by the time it reaches its target. Once the IA chemotherapy had successfully shrunk the prostate, our Oncology Surgery Specialist Professor Nick Bacon removed the prostate entirely, including all the cancerous tissue. Krico maintained full urinary continence after surgery and is at home loving life.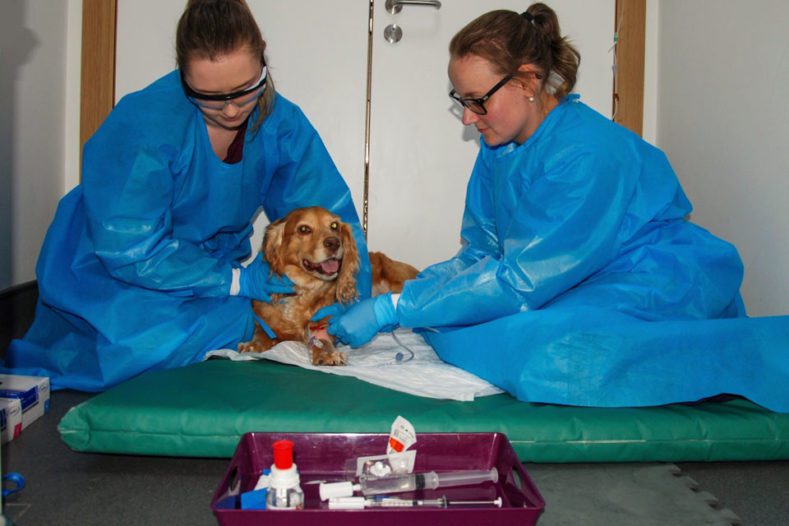 During his treatment with us, his family have reported how well he's been, with no signs of side effects from his chemotherapy.
Krico's a great example of a patient living well with cancer and hopefully gives hope to other families that there are options available which can help give an extended, good quality of life.