Chappie's story – intervertebral disc disease (IVDD)
Five-year-old Dachshund Chappie lives with Tamsin and her family in Kingston, along with fellow Dachsie and best mate Theo.
Chappie has the brilliant Richmond Park on his doorstep and since he was a puppy has enjoyed long and exciting walks.
A problem
In December 2014, while Tamsin and her family were on holiday, their dog sitter noticed that Chappie was not his usual bouncy self and kept lagging behind on walks in the park. When Tamsin and her family came home, they too began to see that poor Chappie was not himself; and now kept collapsing and scrabbling on his back legs. With a visit to the vet, they were advised conservative management and to continue to monitor him closely.
Then one afternoon, Chappie lost the use of his back legs completely! With a visit to the vet, an emergency referral was made as it was suspected Chappie had intervertebral disc disease that would most likely need surgery, so Chappie came to Fitzpatrick Referrals.
On arrival, Chappie and his family met with Resident Susan Murphy, and after a detailed examination Chappie was classified with a Grade Two Myelopathy affecting his thoracolumbar spine and after discussion with Tamsin, it was agreed they would make some detailed investigations of Chappie's spine with an MRI scan.
Leaving Chappie with the team, Tamsin was promised to be updated regularly on his progress.
Emergency treatment
Chappie was introduced to the prep room nursing team. Jade, one of the dedicated in-patient nurses was paired up with Chappie to take care of him while he went through the hospital. Naturally, Chappie was a little nervous about his new surroundings, but everyone did all they could to make Chappie comfortable, and he was never short of a cuddle and a kind word.
Chappie was anaesthetised by Intern Erica, in order to take him to our advanced imaging department to perform an MRI scan of his spine.
Results revealed an exploded intervertebral disc, technically known as a Hansen Type I disc extrusion, between Chappie's 12th and 13th vertebra. Since Chappie hadn't responded to conservative management with his primary vet, the only answer was to proceed with surgery.
Chappie, still anaesthetised was prepared for surgery by having a strip of hair shaved from along the length of his back and an X-ray to prepare Tim Sparrow, Chappie's surgeon, for the operation. Tim performed a procedure called a hemilaminectomy, which is a technical term used to describe burring a window through the affected vertebrae to visualise the exploded intervertebral disc. Once Tim located the disc, he then uses a small surgical spoon called a curette to scoop all the soft disc material which is compressing the spinal cord.
Once the surgery was complete Chappie was taken to his own recovery room in the small dog's kennels along with his favourite blanket from home to cuddle into. Tim called Tamsin to let her know the findings and that the surgery had been successful but he would have to remain at the hospital during his recovery.
Chappie stayed in his temporary home with us for 8 days so we could closely monitor his healing, including his emotional as well as his physical state. Over the few days, while Chappie was still nervous of everyone he did improve day by day and started to eat independently.
Home
Finally, the day came where Chappie was allowed to go home! Needless to say, he was very excited to see his family again. Resident Susan Murphy went through all the important details, answered any questions and went through Chappie's first physiotherapy plan with the help of Physiotherapist Emily.
A week later, Chappie came back for a recheck and to have his stitches removed and a session with Head Physiotherapist Fiona Doubleday to discuss his further physiotherapy plan. Tamsin said it was remarkable how enthusiastic he was to come back, however, he wasn't quite sure about Fiona and her strange exercise suggestions!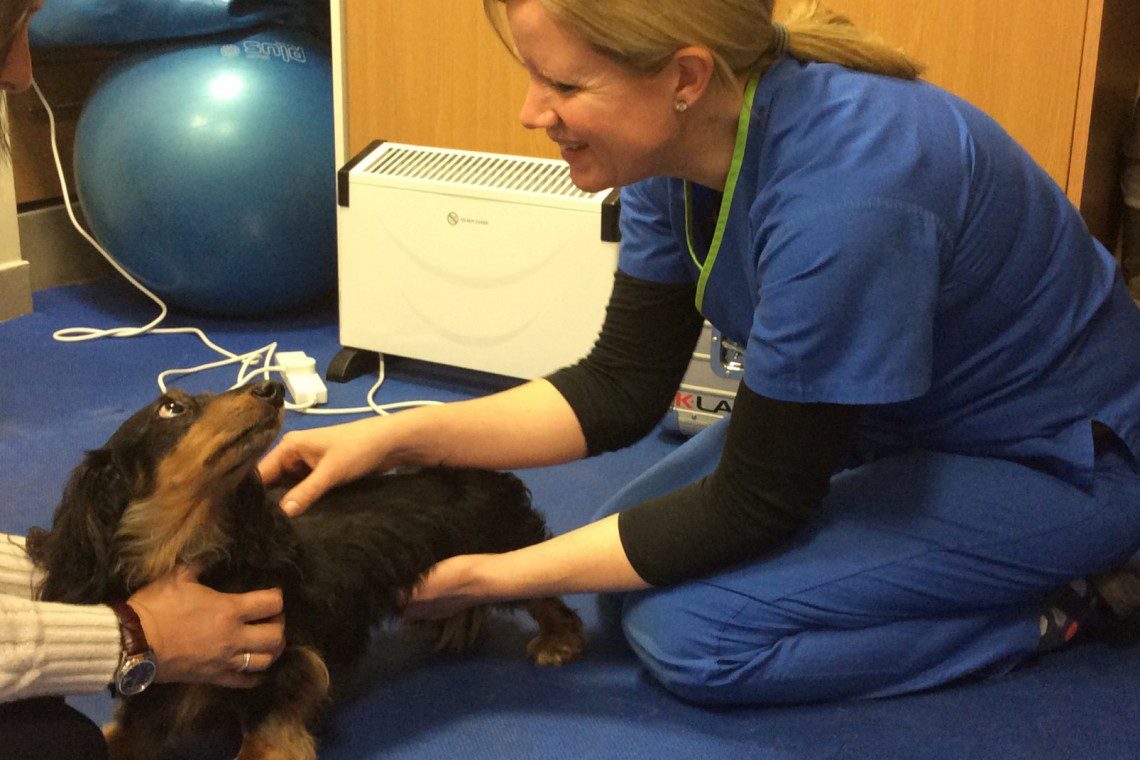 The following weeks showed Chappie go from strength to strength! Clinician Tim advised that hydrotherapy work would be appropriate to be introduced, and Chappie returns to Fitzpatrick Referrals on a regular basis to maintain his rehabilitation progress and has even tried the underwater treadmill.