Huxley's story – epilepsy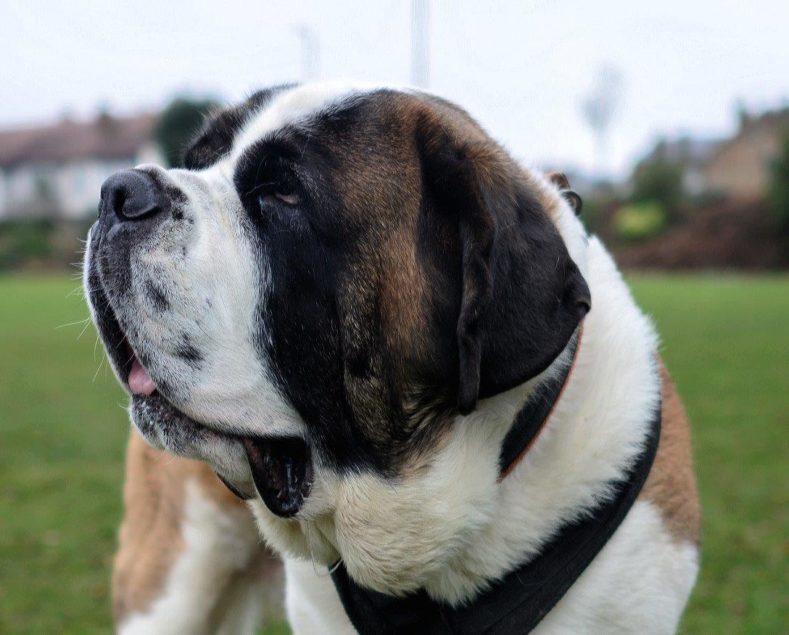 Huxley is a bubbly three-year-old St. Bernard who lives with the Percy family. They took Huxley to see their local vet at Twickenham Veterinary Surgery when he was only 3 months old, when he collapsed during exercise.
Initially, he was investigated for heart disease but it was eventually determined that he was suffering from seizures. Huxley was referred to a specialist centre for brain MRI and other tests and was finally diagnosed with idiopathic epilepsy. He was started on anti-epilepsy but continued to do poorly and when he was 18 months old he was referred to see Dr Clare Rusbridge, Chief of Neurology at Fitzpatrick Referrals.
At that time he was having clusters of up to 17 seizures in less than 24 hours on a monthly basis. This was very worrying for his family, not to mention difficult to cope with given Huxley is a large St. Bernard weighing 94kg!
Clare ascertained that Huxley also had gastrointestinal disease. The Percy family had already changed his diet which had helped and following some tests Huxley was also treated with an antibiotic. Huxley's anti-epilepsy medication was altered.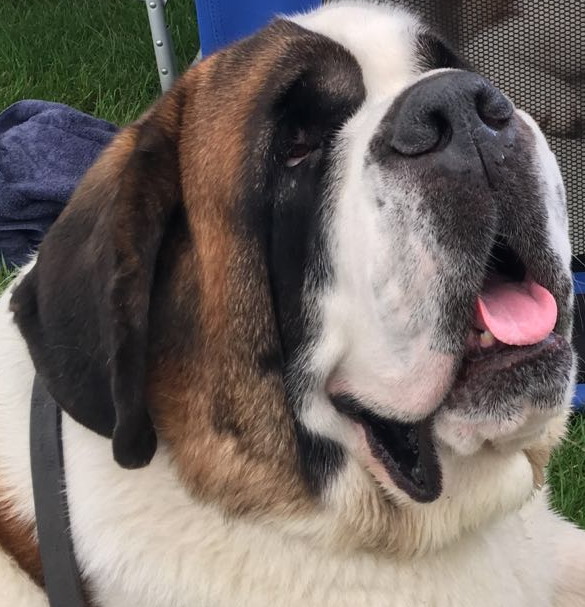 A few months later, Huxley was a much happier dog and was seizure free for over a year following the initial consultation and remains with much-improved control. He is the proof that epileptic dogs can enjoy a good quality of life despite the fact that the disease cannot be cured. Prompt diagnosis and management is important as there is evidence to suggest that early treatment in the course of the epilepsy, can provide a better long-term outcome.
Together, the Percy family, their local vet and Fitzpatrick Referrals continue to monitor Huxley to ensure we can manage his seizures and he remains as happy and healthy as possible.
Huxley's mum, Linda Percy said:
Huxley is an amazing dog, and everything about him is massive – his personality, love, appetite, snoring, and unfortunately his epilepsy. He certainly doesn't like to do things by half measures! Thanks to Clare Rusbridge we have managed to control his epilepsy to a good level, and we even managed to have a long seizure free period. Using our specially designed cluster protocol there has been no need to attend the emergency vets, something that we were doing on a monthly basis prior to meeting Clare.

I'm in no doubt that it has been down to Clare's professional knowledge and willing to research new options for Huxley that we were able to recently celebrate his 3rd birthday, a milestone that seemed such a distance away when he was 10 months old and having cluster seizures into double figures. We've had consistent support with all aspects of Huxley's life and I will be eternally grateful for the help given to us by Clare Rusbridge and the Fitzpatrick Referrals team.