Coronavirus – Referral update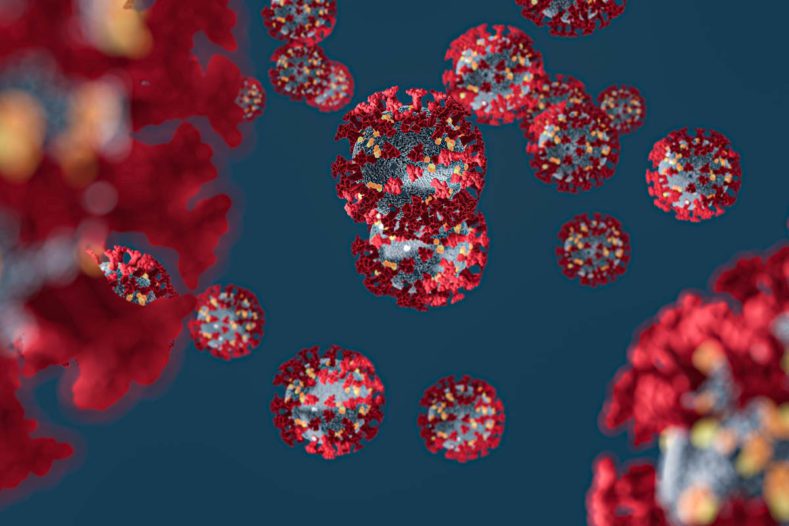 Fitzpatrick Referrals remains open at both the orthopaedic and neurology centre in Eashing and the oncology and soft tissue hospital in Guildford.
A message for our clients
Thank you for your continued patience and understanding during the COVID-19 pandemic. Our two hospitals have continued to operate throughout the lockdowns and restrictions, within the Government's guidelines for veterinary practices.
We continue to provide veterinary care and treatment across both sites and will continue with the procedures put in place to minimise the risk and to protect the wellbeing of our team, and you, our clients.
The overall message during the national lockdowns is to stay at home although members of the public are permitted to travel to access veterinary services. We will assess cases in that context and, in some cases, it will be appropriate to delay seeing a pet for the duration of the lockdown. We would ask that you respect our decision in these cases.
Please see the section Information for clients below. 
A message for our referring practitioners
In these challenging times, we wanted to reach out to our referring vets to give you an update on our current service provision.
We will continue to offer a full referral service to our existing and new clients during the national lockdown phase and will continue to offer radiographic interpretation and phone support for cases you are seeing.
To ensure we are able to maintain a service we have changed the way we work and have altered the way we interact with clients with most consultations occurring over the phone. We are ensuring our staff adhere to social distancing guidelines and have altered our clinical hygiene protocols to align with government recommendations.
We want you to know that we are here to help you during these difficult times.
We will keep you updated over the coming months as the COVID-19 situation continues to evolve. It is important that the veterinary community does as much as possible to support each over the coming months.
If you are struggling with a case, please remember we are here to help.
Best regards,
Fitzpatrick Referrals
We would ask that before setting off for the practice you phone the relevant number below and read the following guidelines.
If your appointment is with Orthopaedics & Neurology telephone 01483 423761
If your appointment is with Oncology & Soft Tissue telephone 01483 668100
Fitzpatrick Referrals is committed to protecting the wellbeing of our staff, patients and clients at all times. We are following the government's most recent advice regarding the measures we need to take to help control the spread of COVID-19. We have increased the frequency that our public areas are cleaned and introduced extra hand washing and sanitising facilities in our public areas.
Social distancing is the key to protecting each other and we need to change the way we work during the pandemic to ensure our animal companions receive the care they require, our staff are protected and we minimise the risk to our clients visiting our referral centres.
How can you help us?
We are asking all clients to wait outside in their cars.
Please maintain a distance of at least 2 metres between you and others at all times.
We ask that you wear a face-covering during any direct face-to-face interactions and if you need to use our toilet facilities.
Please keep the number of people that visit to a minimum – ideally, only one person should be present with the patient rather than the whole family.
Please do not bring anything apart from your animal to your appointment – no beds, toys or food bags. We will transfer cats into a clinic carrier and ask you to take your cat carrier away with you. Please remember to bring your cat's basket with you when you come to collect them.
Basic guidelines
If you have been exposed to COVID-19, had close contact with someone who has or if you are experiencing symptoms such as a new persistent cough or a fever, please call us to discuss the care of your pet before travelling to the clinic.
If you need to change any appointments because you are in isolation, please call us and we will rearrange these for you. We want to look after you and your animal friend.
If you have recently been abroad or in contact with an isolated family member, friend or colleague, please call us on the above relevant number before travelling for your appointment.
Appointments
We will contact you by telephone / text message / email regarding your appointment to ask you questions regarding self-isolation and any health concerns you may have linked to the COVID-19 outbreak.
When you arrive for your appointment please call reception to alert them of your arrival. Please wait in your vehicle until a member of staff comes to collect your pet. We ask that all children remain in the vehicle.
Due to the restrictions in place during the COVID-19 pandemic, many consultations will be carried out by telephone. Keep your phone on and handy as a clinician will phone you to discuss your pet's complaint, create an investigation plan and thereafter a treatment plan.
If your pet is admitted for sedation and investigation only or follow-up radiographs, your pet may be returned to you by a nurse or duty vet. Where possible clinicians will then follow up with a phone call or email. In routine, non-urgent cases this may be 24-72 hours after your visit.
Recheck appointments
At our orthopaedics and neurology practice, we are trying to keep recheck examinations to a minimum. Our reception team will contact you in the run-up to your pet's recheck examination and may arrange a telephone consultation with one of our specialists instead of a physical recheck examination.
If you have to attend a recheck examination with your pet please wait in your car when you arrive and call reception to let the team know you have arrived. Please wait in your vehicle until a member of staff comes to get you. We also ask that all children remain in the vehicle.
Discharge appointments
When you arrive to collect your pet from the clinic, please stay in your car and phone the clinic to let them know you have arrived.
You will receive a set of discharge instructions. Please read these instructions carefully and do not hesitate to contact us if there is anything you do not understand.
In most cases, we will bring your pet to your car, give you a brief verbal handover and answer any questions you may have.
Owner visits
To adhere to the government guidelines on social distancing we are not able to allow family visits with hospitalised patients at the present time.
Our teams will ensure that you are kept up to date on your pet's care and treatment via telephone and email.
New referrals
During the COVID-19 pandemic, we are following the advice from the Government and the Royal College of Veterinary Surgeons and are able to accept routine, urgent and emergency cases.
Please contact your primary care vet in the first instance for advice and they can arrange a referral to us if specialist care is indicated.
Repeat prescriptions
Should your animal require a repeat prescription please ensure you submit your requests to the practice with plenty of notice, before your medication supply runs low.
We aim to fulfil your prescription within 72 hours. Please bear with us during this time whilst we process your requests.
If you have any concerns regarding your pet's current medication plan please contact the specialist overseeing the patient for further advice.
Outpatient rehabilitation appointments
We continue to offer outpatient physiotherapy clinics and hydrotherapy sessions, both underwater treadmill and pool therapy sessions at our Rehabilitation Centre in Eashing. To book please call the practice on 01483 423761.
Our inpatient rehabilitation service continues to be provided for those patients staying with us.
We continue to follow covid safe measures for client and staff members' safety, as such clients are unable to enter the building for their pet's treatment session but we always offer an update including any home management plan updates when we hand your animal back at the end of their session.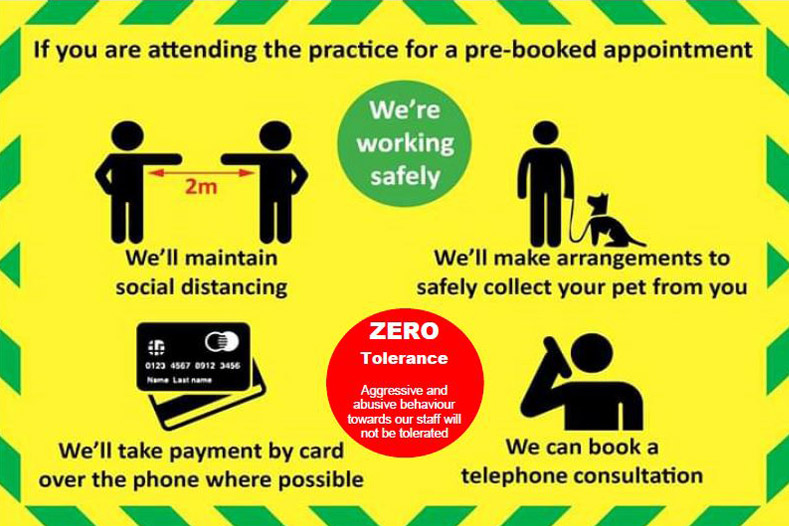 Please continue to show your kindness and understanding towards our team members during these difficult times. We are working hard to ensure the best care can be provided to animals in their time of need.
Last updated: Monday 19th July 2021. This guidance remains in place until further notice.