Ebi's Story – Bladder Cancer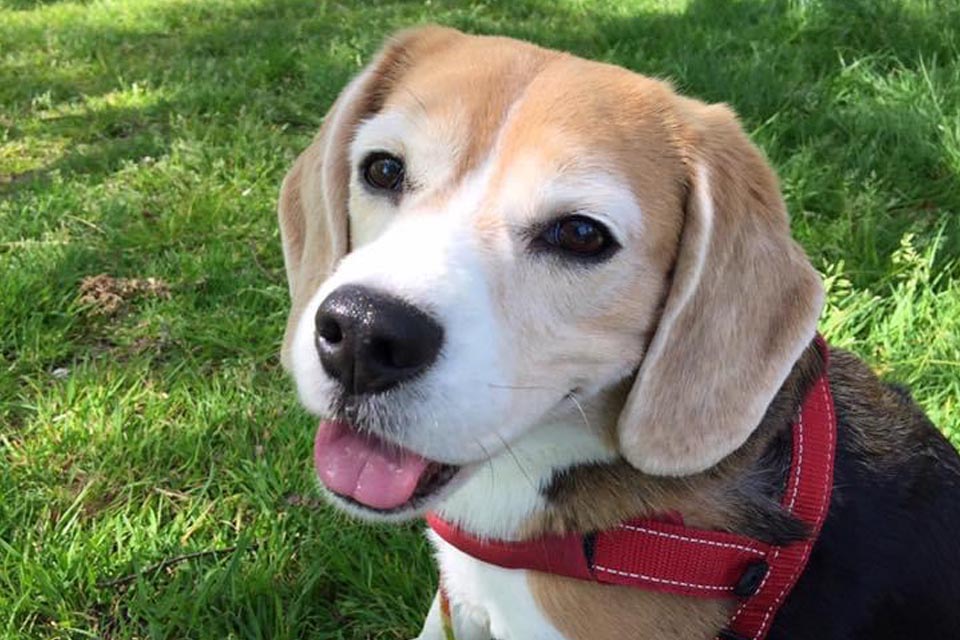 Sweet little Ebi is a 13-year-old Beagle, who was referred to our oncology hospital in Guildford when she began to have issues urinating – she was urinating more frequently, passing only small amounts of urine, and also having some accidents in the house.
A CT scan and cystoscopy revealed a mass in Ebi's bladder. (Figure 1) The mass appeared localised and relatively well-defined which meant that surgical excision could be discussed as a treatment option.
The therapeutic value of surgical excision of localised bladder cancer in dogs remains controversial. Because cancer cells are released in the urine, they can seed on the surface of the bladder and cancer frequently reoccurs after surgery. There is also a risk that cancer cells could spread into the abdomen during surgery.
Surgery
When surgery is followed by medical management with non-steroidal anti-inflammatories (NSAID), some dogs will be able to enjoy long-term remission. After careful consideration, Ebi's family chose to go ahead with surgery to remove the mass.
Clinical Director Professor Nick Bacon operated on Ebi, removing the mass and two nearby lymph nodes. Samples of the mass and the lymph nodes were sent to an external lab for analysis. While the lymph nodes came back clear, sadly, the mass was confirmed to be an aggressive urothelial carcinoma (the most common bladder cancer).
Aside from some episodes of incontinence, Ebi recovered well from surgery. She had to urinate more frequently, as her bladder was smaller, and with the help of some medication, her urination went back to normal within three months.
Following her surgery, Dr Quentin Fournier started Ebi on a chemotherapy protocol using eight doses of an agent called vinblastine to try and decrease the risk of cancer recurrence. Vinblastine is typically administered intravenously every one to two weeks and is one of the most commonly used cytotoxic agents to treat bladder cancer in dogs. Ebi tolerated her protocol very well. At the end of her chemotherapy protocol, an ultrasound scan was performed, showing some irregularities in the bladder, similar to the images recorded after her surgery (Figure 2).
We suspected these could be scar tissue from her previous surgery but unfortunately could not rule out early cancer recurrence. Our medical oncology team then had to come up with a strategy to discern which of the two possibilities it was.
Since many bladder cancers carry a very specific mutation (BRAF V595E), we contacted our pathology lab to perform this test on the tumour that was previously removed. The results confirmed a positive result, which confirmed her bladder cancer carried this mutation. After receiving this result, we performed the same test on her urine, which unfortunately revealed the presence of the same mutation, thereby confirming that she still had some cancer remaining and that the irregularities noted on the ultrasound were indeed cancer recurrence.
Ongoing medical management
Options were discussed to include a maintenance chemotherapy, as this is the most commonly prescribed treatment for the management of bladder cancer in dogs. Given her age, low burden of disease, and absence of response on chemotherapy, other medical alternatives were discussed.
Ebi's family were keen to consider these options and Ebi was started on differentiating therapy, which is an approach we thought could be advantageous in her case. This treatment entails daily medication Ebi receives orally at home. Rechecks are performed every three months via bladder ultrasound and blood tests.
She is tolerating this treatment very well and we are pleased to report her cancer remains stable a year after having stopped her chemotherapy. We are so very happy to see Ebi in such great shape and enjoying a good quality of life!