Sooty's Story – Feline Intra-Thoracic Lymphoma

Life-saving chemotherapy in a cat with only 1mm left to breathe!
Sooty is an 18-year-old male neutered cat who was referred to the medical oncology service at our Guildford hospital for further investigation of a mass within his chest.
For the last two months, Sooty's appetite had been decreasing, he was losing more and more weight and he had been having issues with a wet cough. Thoracic radiographs taken by his local vet practice revealed an intra-thoracic mass but it was unclear if it originated from the lungs or from somewhere else in the chest region.
We performed a CT scan which revealed a large mediastinal mass (middle of the chest) which was wrapping around the trachea and bronchi (airways), but which also seemed to have infiltrated the left lungs (figure 1).
On recovery from the procedure, Sooty could barely breathe and even trying to eat was causing him to suffocate. This was not surprising, as the mass in his chest had obstructed his left-sided airways so much so that all his left lungs had completely collapsed. On the right side, the mass was only leaving 1mm of air going through his lungs, 1mm which was fortunately still keeping him alive.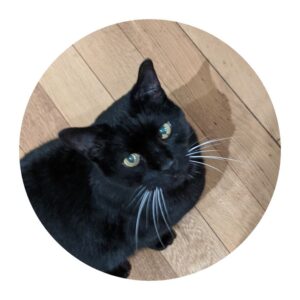 The situation was grave, and we feared he would not make it through the night. A decision had to be made: starting steroids could save his life, but could also compromise the diagnosis of his condition.
We elected to give him an injection of steroids to decrease the inflammation and swelling in his airways, and also because we suspected a lymphoma which is very sensitive to this drug. Sooty showed marked improvement overnight, which then allowed us to take fine-needle aspirate samples of the mass.
Within 24 hours, the results confirmed our suspicion of lymphoma, and Sooty was started on chemotherapy. He was able to eat again within 24 hours and within a week his breathing was back to normal. His thoracic radiographs were repeated after four doses of chemotherapy (figure 2). They confirmed the mass had shrunk markedly, and his left lungs were inflated again.
Sooty is still receiving chemotherapy and is enjoying a happy life at home.