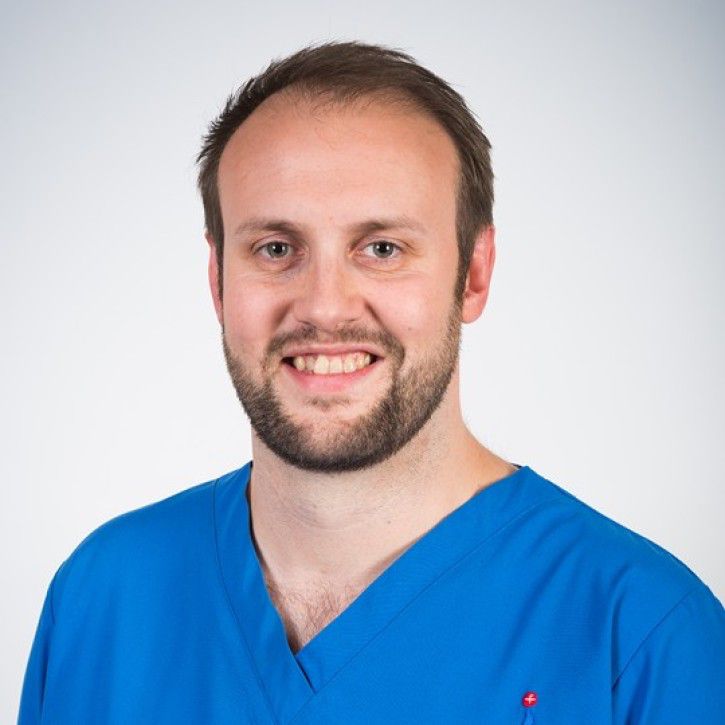 Specialist areas
Dr Colin Driver
Clinical Director, Senior Surgeon Neurology

/

BSc BVetMed (Hons) MVetMed PhD DipECVN MRCVS
Colin Driver joined the neurology team here at Fitzpatrick Referrals in October 2014 to begin the next exciting phase of his career.
After graduating with honours from the Royal Veterinary College (RVC), University of London in 2008, he then went on to gain a first-class honours degree in Immunology and Oncology from Kings College during and subsequently undertook a one-year rotating internship and three-year residency in neurology and neurosurgery at the RVC, which was combined with a PhD programme at the University of Ghent, Belgium.
He was awarded the diploma of the European College of Veterinary Neurology by examination in 2012 and became a veterinary neurology specialist. He spent a further eighteen months at the RVC on the neurology faculty before working in private referral practice in Hampshire for a year.
He successfully defended his PhD thesis, entitled 'New insights into the pathogenesis of Syringomyelia in dogs', in May 2014. In September 2014 Colin became a recognised specialist of the Royal College of Veterinary Surgeons.
Colin is experienced in all aspects of medical neurology and neurosurgery, although Colin is particularly interested in the diagnosis and treatment of developmental disorders of the nervous system, including vertebral malformations, hydrocephalus, Chairi-like malformation and syringomyelia. Colin is particularly interested in the diagnosis and treatment of canine Syringomyelia. Colin's other interests include canine epilepsy, novel neuroradiology techniques and neurooncology (the diagnosis and treatment of cancers affecting the nervous system).
Publications
Colin has multiple publications in canine and feline neurology. The full list can be seen here
Publications
Research authors: A Tauro, J Jovanovik, CJ Driver, Clare Rusbridge