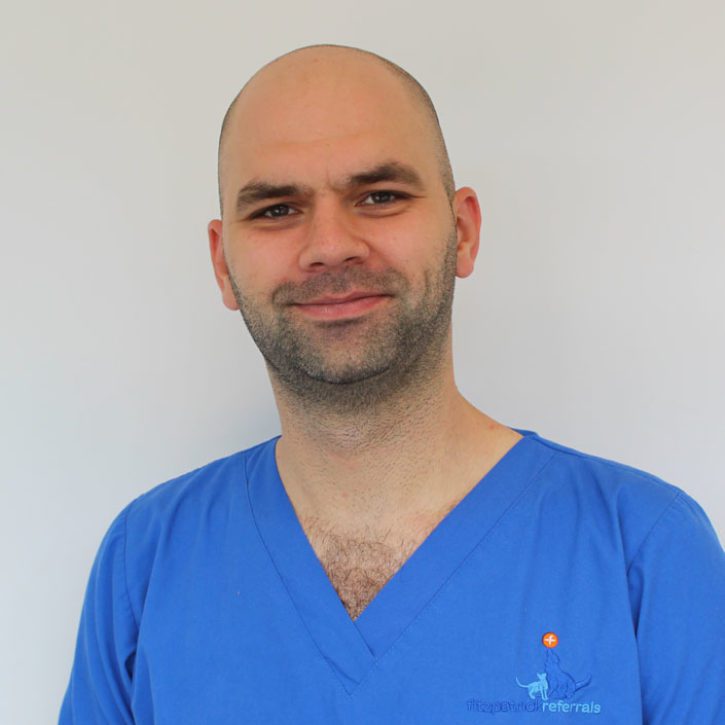 Specialist areas
Dr Ivan Kalmukov
Surgical Resident (ECVS)

/

MSc PG Cert SAS MRCVS
Ivan graduated from the Faculty of Veterinary Medicine, Trakia University, Stara Zagora (Bulgaria) in 2009. He worked as a general practitioner in the coastal town of Burgas in Bulgaria for three and a half years before moving to the United Kingdom in 2014.
Ivan worked in few different primary care practices across the country including emergency and out of hours service before accepting a position as honorary lecturer at the University of Nottingham Vet School and lead first opinion surgeon in Pride Veterinary Centre, Derby in July 2017. There he was directly involved in the clinical training of veterinary students and finished his post-graduate certificate in small animal surgery.
In October 2018, Ivan joined Fitzpatrick Referrals as a surgical intern and subsequently became surgical resident in July 2019. He is currently enrolled on a three-year European College of Veterinary Surgeons (ECVS) approved residency programme in small animal surgery. Although he is interested in all aspects of small animal surgery, Ivan particularly enjoys wound management, fracture repair and joint replacement surgery.