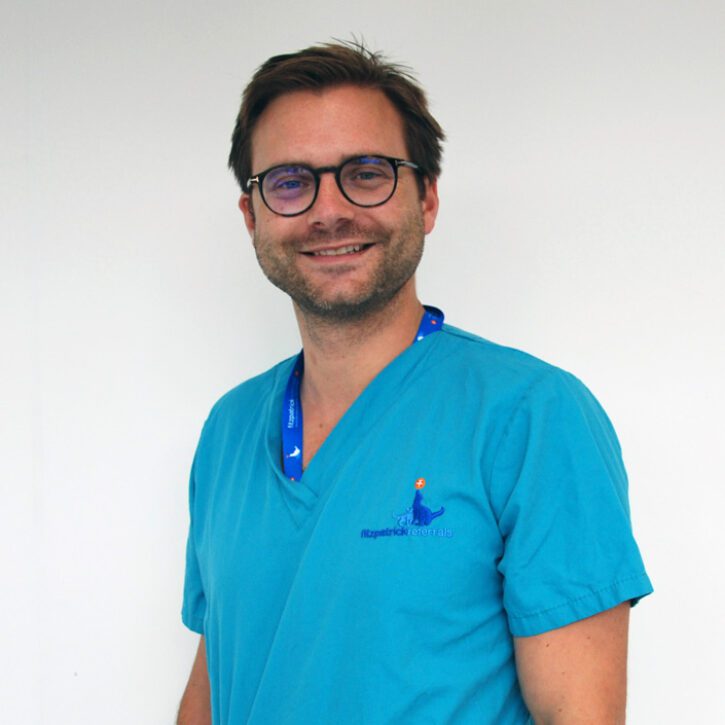 Specialist areas
Dr Quentin Fournier
Senior Clinician, Medical Oncology

/

DVM Dipl. ECVIM-CA (Oncology) MRCVS
RCVS Recognised Specialist in Veterinary Oncology (Small Animals)
EBVS® European Specialist in Small Animal Oncology
Dipl. Oncology Clinical Research (Project Manager)
Quentin qualified from Alfort Veterinary School (Paris, France) in 2014, and completed a rotating internship in the Small Animal Hospital of the Veterinary Campus of Vetagro-sup (Lyon, France) in 2015. He then enrolled in a combined one-year specialised internship and a three-year residency in Small Animal Oncology at the University of Edinburgh, which he completed in 2019. The same year, Quentin became a Diplomate in Small Animal Oncology and started an oncology service at the Veterinary Hospital Fregis (Paris, France). He was also selected for a one year of training in Oncology Clinical Research organised by Paris-Saclay University and the School of Cancer Sciences and was awarded with a Project Manager diploma.
Quentin joined Fitzpatrick Referrals Oncology and Soft Tissue hospital in September 2020 as a Senior Clinician in Medical Oncology. He is particularly interested in the optimisation of chemotherapy administration and lymph node assessment. He is also passionate about developing new therapeutic and diagnostic modalities to help cancer patients, whilst embracing the One Health concept.
He is delighted to join the team and is looking forward to offering cutting-edge cancer management options for small companion animals. He is very happy to discuss the details of any patient with your family veterinary surgeon should this be helpful.
Publications
Research authors: P E Paulos, S Boston, O T Skinner, J M Liptak, P M Amsellem, Q Fournier, C J Wood, M Annoni, D Murgia, M L Oblak, B L Dean, S D Baird, N J Kulendra
News