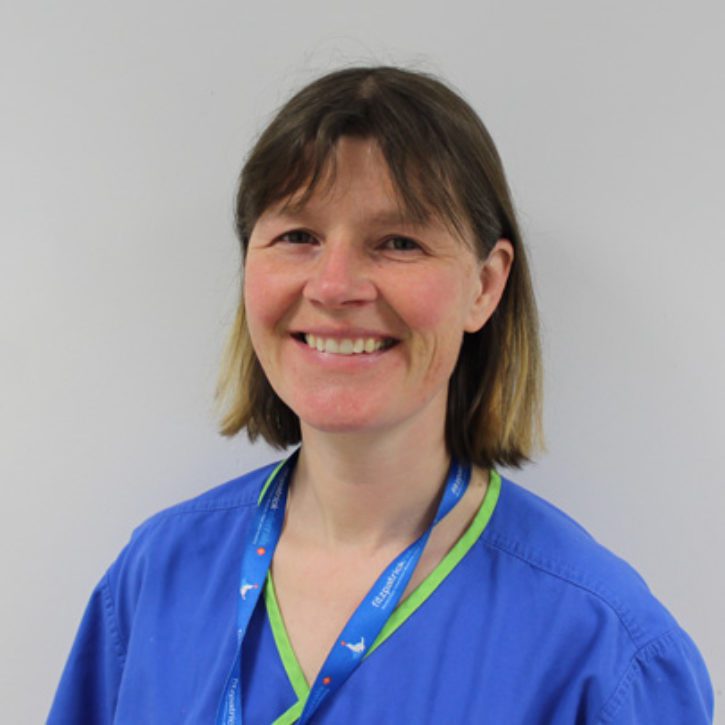 Specialist areas
Fiona Taylor
Inpatient Physiotherapist

/

BSc (Hons) MCSP HCPC MSc Vet Phys ACPAT catA
Fiona Taylor graduated from Brunel University in 1995 and started her career as a junior physiotherapist at Guys and St Thomas NHS Trust in London. She briefly worked at Frimley Park Hospital as a senior physiotherapist in MSK outpatients and orthopaedics before moving to Cincinnati, Ohio and then Geneva.
Over the 11 years spent living abroad, Fiona balanced working as a physiotherapist in private practice with looking after her three children. In 2010 Fiona returned to the UK which gave her the opportunity to pursue her dream of becoming a veterinary physiotherapist, graduating from UWE (Hartpury) in 2016 with an Msc.
Since graduating, Fiona has started her own private practice in the New Forest treating humans, horses and small animals and very much enjoys the variety in clinical practice that the mix of animal and human clients offers.
Fiona found the opportunity to work at Fitzpatrick Referrals too tempting to resist and as such now enjoys working three days a week as part of our inpatient physio team and two days in her private practice.
Her main interest in physiotherapy is neuromusculoskeletal rehabilitation. Fiona is committed to educating families so that they feel a part of their dog or cat's recovery when they go home, and, in promoting their long term wellbeing.