Soft Tissue Service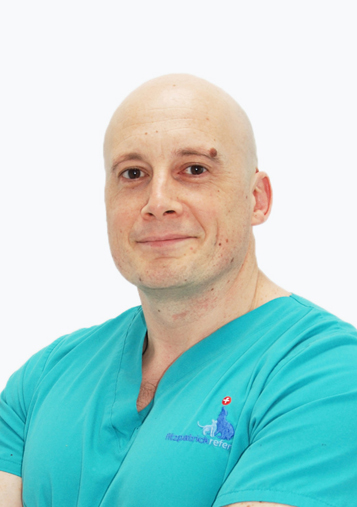 Laurent Findji
Senior Surgeon Oncology and Soft Tissue
Soft tissue surgery refers to any type of surgery for treatment of diseases which are not orthopaedic or neurologic.
As such, it includes surgery of most organs, the stomach, intestines, liver, kidneys, bladder, lungs, heart, as well as surgery of other soft parts of the body, including skin, muscle, fat and so on.
Our soft tissue surgeons are specialised in reconstructive, ENT, genitourinary, thoracic and gastrointestinal surgery. In many cases, their specialisation in surgical oncology and the availability of our medical oncology department is also a major advantage, as many soft tissue surgery cases turn out to have aspects linked with oncology.
We are based at the oncology and soft tissue centre on the Surrey Research Park in Guildford
Conditions
Depending on what soft tissue condition your pet has will determine what options for treatment are available. See more about the various surgeries below.
Soft Tissue Conditions and Treatments
Brachycephalic Syndrome (BOAS)
Laryngeal surgery (e.g. for paralysis or collapse)
Reconstructive surgery (wound care, skin flaps, skin grafts, body wall reconstructions)
Digestive surgery (e.g. for foreign bodies, GDV, megacolon)
Portosystemic Shunts
Biliary surgery (cholecystectomy, choledochal stenting, etc.)
Hernias (perineal, diaphragmatic, peritoneopericardic, etc.)
Ear surgery (Total Ear Canal Ablation, Ventral bulla ostectomy)
Patent Ductus Arteriosus
Pericardectomy
Ureterotomy, ureteral bypass, cystotomy, urethrotomy, urethrostomy
Thoracic Duct Ligation
Patient Stories
The Patient Stories below give an insight to some of our patients and their journey while having treatment at Fitzpatrick Referrals.