Titan's Story – Dog bite trauma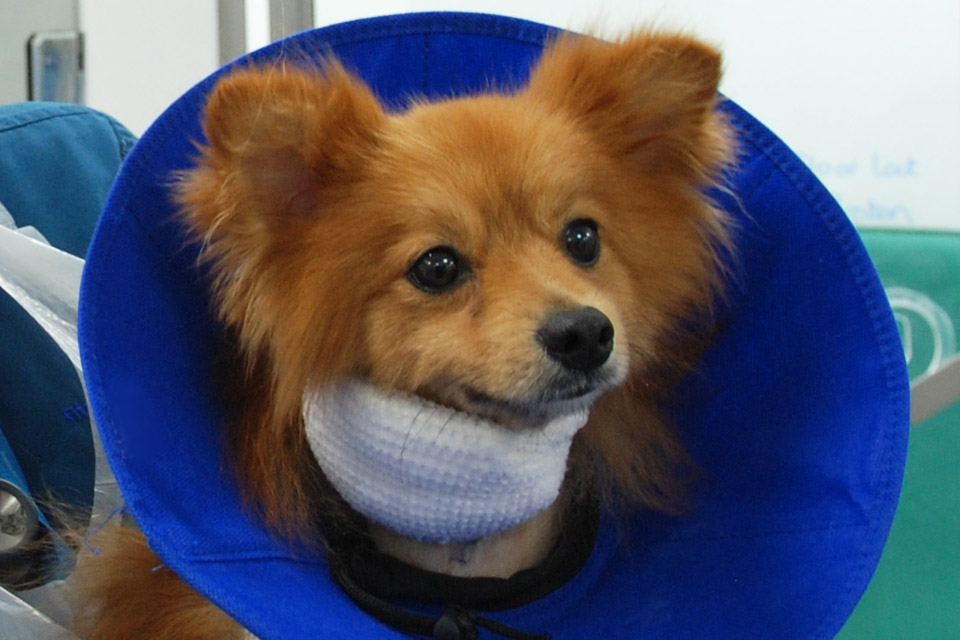 Titan is an adorable four-year-old German Spitz who came to Fitzpatrick Referrals Oncology and Soft Tissue hospital as an emergency after being attacked by another dog.
He was lucky to be alive and was placed under the care of Senior Clinician Dr Laurent Findji and his team.
Titan had extensive damage to his throat and the floor of his mouth, and once the team removed all the damaged and dead tissue he was left with a huge gaping hole. This massively affected his ability to drink and eat and left the team with no choice other than to put a feeding tube directly into his stomach. He has been tube fed a liquid diet throughout his stay and has been on antibiotics and painkillers to keep him comfortable.
After multiple surgeries, the team have slowly been able to repair his injuries and finally, the hole is closed and his wound is healing nicely. After 5 weeks, he is now able to eat small amounts of food on his own, which have been topped up with the use of his feeding tube.
Although he will need to come in for regular check-ups and to have his tube removed, Titan finally went home for the first time in over a month.
The team have understandably grown incredibly fond of Titan and are so proud to see him go home. He has been unbelievably brave, patient and full of affection after everything he has been through. The team will all miss him hugely but are so thrilled that they can reunite him with his family.