Rocky's story – intervertebral disc disease (IVDD)
Rocky's sudden inability to walk and his journey to learn how to walk again.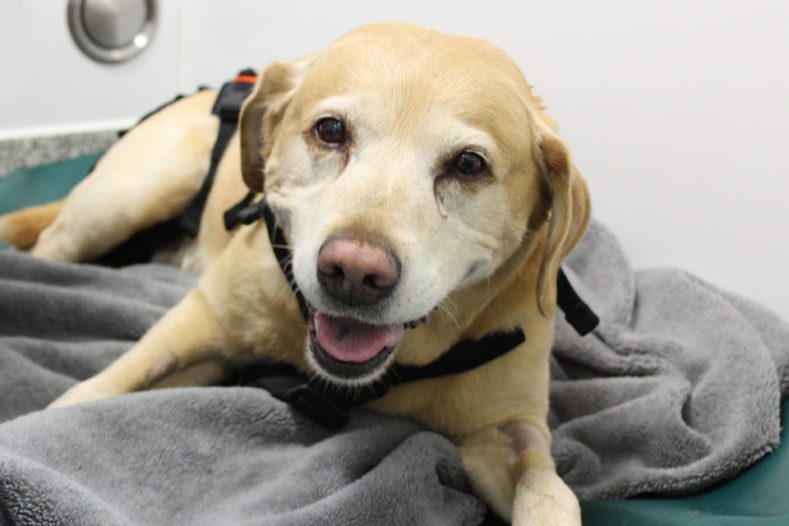 11-year-old Rocky, is a friendly Yellow Labrador from Surrey, under the care of Neurology Resident Carina Rotter.
Rocky was referred by his local vet as an emergency case in April 2019, after his mum heard him scream and found him rigid and unable to get up one morning.
On arrival at Fitzpatrick Referrals, Rocky underwent a clinical and neurological examination and MRI scan to help identify the cause of his non-ambulatory tetraparesis (a partial loss of use in all four limbs, meaning Rocky was unable to take a single step). MRI images revealed a left-sided disc extrusion of the C2/3 intervertebral disc – the neck area of his spine. The contents of his disc were compressing his spinal cord, causing pain and his inability to walk.
Rocky's diagnosis
Rocky was diagnosed with Hansen type-1 disc disease, a disease most common in small breed dogs, although larger breeds can be affected. The onset of clinical signs is generally acute i.e. sudden onset. The degree of clinical signs is variable but does influence prognosis, as does the duration of clinical signs.
Rocky underwent emergency cervical hemilaminectomy surgery with Senior Clinician in Orthopaedics Miguel Solano and Resident Surgeon Carina Rotter to remove the extruded disc material causing the spinal cord compression.
Recovery
Following his surgery, Rocky recovered well and received daily physiotherapy from our in-house Rehabilitation team at the practice, to help him relearn how to walk and be independent again.
Part of his rehabilitation programme involved gait re-education and walking over poles, with the support of a harness. The physio team made sure he had plenty of rest breaks and the odd gravy bone as encouragement along the way.
At the start of his rehabilitation, we had to place his feet for him, as he relearnt how to walk. One week later the difference was amazing. He's a different dog.
Fiona Taylor, physiotherapist
Rocky spent 11 days at the practice with his mum making regular visits to help keep his spirits high and then returned home to continue his recovery.