Tiger's story
It was clear after we saw the images sent through that Tiger was in serious trouble. Tiger, despite his seriously injured hind limbs, had dragged himself back to his home.
It was unclear how his injuries occurred but what was clear was the fact that Tiger looked likely to lose one if not both of his feet on his back legs. One slight problem in getting Tiger to the clinic for assessment was the fact he was living in Devon and his owners could not bring him to Surrey!
Well, a four-hour car journey to Devon and back isn't much if it's to save a little furry life, is it! One of our veterinary team – Pádraig Egan – took the long drive to Devon to pick Tiger up and bring him to the clinic.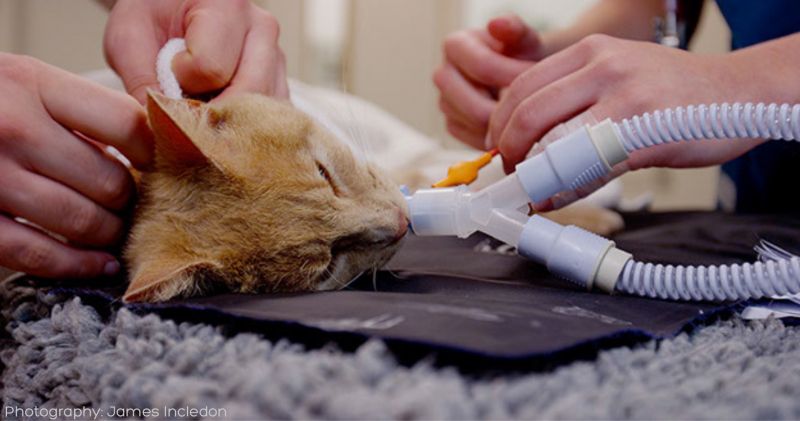 When Tiger arrived at the clinic we diligently bandaged his injured legs and despite our best efforts we could not save one of his hind limbs and had to bring Tiger to theatre for amputation of his injured leg. But this routine procedure took a dramatic turn for the worst shortly after Tiger was recovered from anaesthesia. Tiger suffered a cardiac arrest in recovery and the team sprung to life to bring Tiger back from the brink of death. After exhausting all options with Tiger showing no signs of life despite prolonged resuscitation we were left with no choice but to carry out internal cardiac massage to try and get Tiger back. After what seemed like an age a faint ECG trace sprung across the screen. TIGER WAS BACK WITH US! Not out of the woods yet Tiger was transferred to the ICU and watched around the clock. Within a few hours, he was sitting up and looking for his dinner – always a good sign with any animal.
Tiger's other leg recovered well and despite treading the line between life and death he seemed none the worse for his experience when he was discharged to his delightful owners some three weeks after arriving in the clinic.