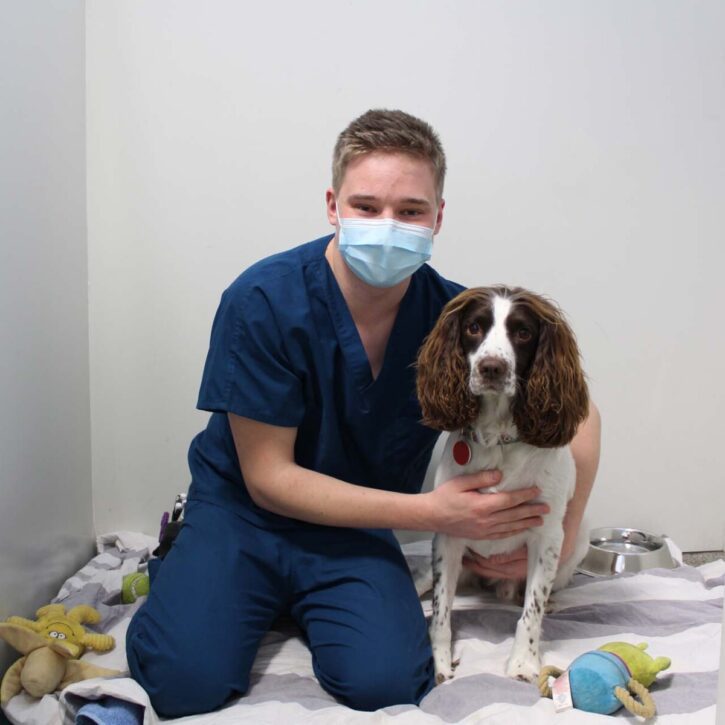 We have a dedicated team of ward nurses at Fitzpatrick Referrals who are responsible for providing round-the-clock care to each and every patient who is referred to us.
Throughout the day our nurses provide each and every patient with every aspect of nursing care required to support them during their recovery period. This requires the highest standard of communication and begins with patient rounds each morning whereby the night nursing team hand over all the clinical details of each patient they have been caring for overnight and we review the patient care plan for each patient with the senior clinicians and duty vets who are responsible for the patient. Patient care rounds are performed frequently during the day when additional shift nurses join the team to ensure continuity of care.
 I love being a ward nurse because I spend my entire working day caring for the patients that are referred to us, be it from injury or following surgery and it is so rewarding seeing them improve enough to go back home with their families.
Role of the ward nurse
Administer medications as prescribed by the vet and ensure clinical records are updated and reflect dosing time etc.
Monitor what and how much they eat and their hydration status. "Often we need to hand feed them. Chicken or hotdogs are the favourites when normal dog or cat food just won't do".
Check bandages and wound dressings for comfort and ensure they are dry.
Monitor the patients for any post-operative problems which vary, depending on the surgery that was undertaken.
Liaise with each patient's senior clinician and intern responsible for the case to ensure frequent progress reports and any concerns are expressed in a timely manner.
Liaise with our chartered physiotherapists to ensure a tailored physiotherapy plan is prescribed to ensure all appropriate means of comfort are implemented and help to optimise the patient's mobility function.
Provide psychological and emotional support including mental stimulation such as grooming, playing with a toy and taking them outside for a walk. Often all they need is someone sitting and talking to them.