Hydrotherapy service
At Fitzpatrick Referrals, we are fortunate to have our own in-house hydrotherapy centre, offering both a large hydrotherapy pool and an underwater treadmill (UWT) to inpatients and outpatients. These both allow specific benefits for our patients.
The warmth of the water provides a medium that assists with pain relief and the reduction of muscle spasm. By immersing a patient, support is provided and this allows more ability to mobilise and create normal movement patterns. Cardiovascular fitness can be increased more easily in the water, this is perfect if a patient is on restricted land exercise. Finally, the hydrostatic pressure can aid swelling reduction.
All patients referred for hydrotherapy (except conditioning and maintenance patients) will firstly have a land-based physiotherapy assessment with one of our chartered physiotherapists so that appropriate treatment aims and goals can be set. During this time you may wish to incorporate some physiotherapy exercises as suggested by the chartered physiotherapist. A treatment programme is then designed and handed over to the hydrotherapy team.
The treatment programme might require both the pool and underwater treadmill therapy or just one particular tool. Most often, gait re-education is performed in the underwater treadmill, whereas general strengthening, cardiovascular conditioning and joint mobilisation can be performed in the pool. Our pool also offers "pods". These are underwater platforms of different heights for different sized animals, that allow specific physiotherapy exercises to be performed that might on land be difficult, including supported stretching, balance and core stability training. The combination of the water and the support of the platform makes for successful administration of rehabilitation. Our heated pool is easily accessible for patients of all sizes and breeds. Therapy sessions take place individually with one or two hydrotherapists in the water.
We find hydrotherapy to be a very useful tool in the rehabilitation of dogs of all sizes and breeds, and cats with a variety of orthopaedic problems, for post-operative recovery, to ease arthritis, to increase mobility generally and as an integral part of a weight loss programme.
Hydrotherapy pool
To commence the hydrotherapy session we gently encourage the patient into the pool. We spend some time massaging our patient and perform some gentle balance and stretching exercises on the balancing pods giving them time to adjust to the environment before taking them for a gentle lap of the pool. We encourage clients to walk around the pool just ahead of their pet, encouraging and reassuring them all the time. The first session is very gentle so as not to exhaust the patient or overtire their muscles. The first session gives us a benchmark for their next appointment. For the first session, we might only do one lap of the pool, or we might do five, it all depends on the patient's response and their requirements. Being in a pool is very different to being in a muddy pond when the bottom can't be seen! Each patient responds differently to hydrotherapy and is therefore a challenge, and is definitely one of the reasons we love our job so much.
Despite cats not being natural water lovers, we have had many successful feline patients over the years and many clients have said their cats even enjoy their sessions, which really aids their recovery. find it can be a useful adjunct to the physiotherapy they would normally receive following surgery. Despite cats not being natural water lovers we have had many successful patients over the years and say some of the cats even enjoy it which really aids their recovery.
Underwater treadmill
To commence the underwater treadmill session, we prepare each patient just the same as if we were performing hydrotherapy in the pool with an appropriate jacket. We gently lead the patient into the four-glass-sided underwater treadmill chamber and stay within the chamber to give maximum reassurance, especially during the first session. The glass doors on either end are securely sealed and the water is filled within the chamber to the desired level depending on the goals you are trying to achieve. In principle, the higher the water level rises in relation to the patient's body the more buoyancy that is provided, meaning there is less loading and impact through the joints and it offers resistance to the body part, which assists with strengthening. Once the appropriate water level has been achieved the treadmill is started at the appropriate speed to encourage steady walking or trotting gait. Again, depending on the aims of the therapy your dog may do many short bursts of treatments in the one session or one longer one. We will be able to advise what is best in accordance with the chartered physiotherapists' plan.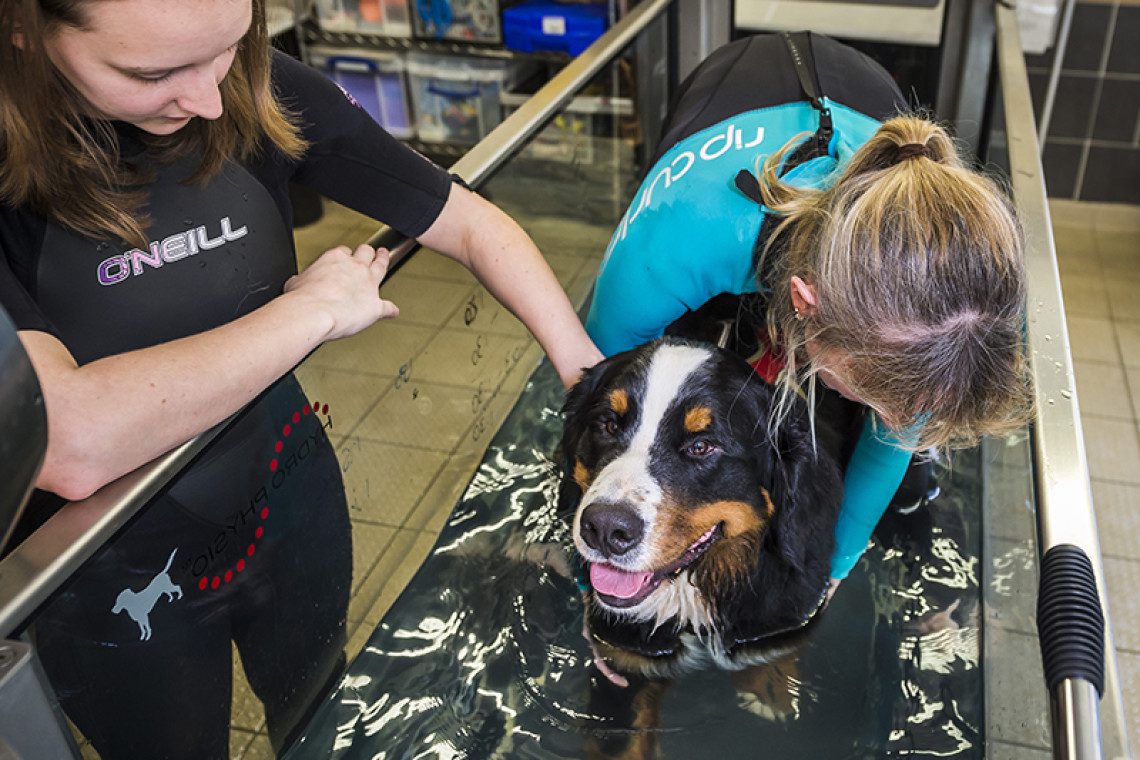 How long is a hydrotherapy session?
Hydrotherapy pool and underwater treadmill sessions are 30 minutes long. This includes preparing your dog or cat for their session and washing and drying them afterwards.
Who can benefit from our hydrotherapy service?
Our hydrotherapy service is open to all.
Inpatients and patients in the recovery phase up to 12 weeks following surgery
Longer-term rehabilitation cases beyond week 12
Cats and dogs needing conditioning and maintenance e.g. elderly, arthritic, weight management and general fitness
Sporting and working dogs
Book an appointment
To book an appointment, your primary care vet will need to send us a referral for your pet, following which, one of our team will be in contact with you to arrange the appointment.
For ongoing hydrotherapy appointments, please give us a call on 01483 423761 and we can arrange this for you. We also offer post-operative boarding facilities for those cases requiring intensive rehabilitation.
Please note, we kindly ask clients to wait in reception during the hydrotherapy appointment, as we have found patients are more calm, focused and gain more benefit from their session.
Hydrotherapy opening hours
| | | |
| --- | --- | --- |
| | Pool | Underwater treadmill |
| Monday | 10am – 6:30pm | 9.30am – 5:30pm |
| Tuesday | 9am – 3:30pm | 8:30am – 3:30pm |
| Wednesday | 9am – 5:30pm | 8:30am – 5:30pm |
| Thursday | 10am – 6:30pm | 9:30am – 5:30pm |
| Friday | 9am – 3:30pm | 8:30am – 3:30pm |
| Saturday | 9am – 3:30pm | 8:30am – 3:30pm |
| Sunday | CLOSED | CLOSED |
Team