Client Column: Our Jasmine by Andrew Odak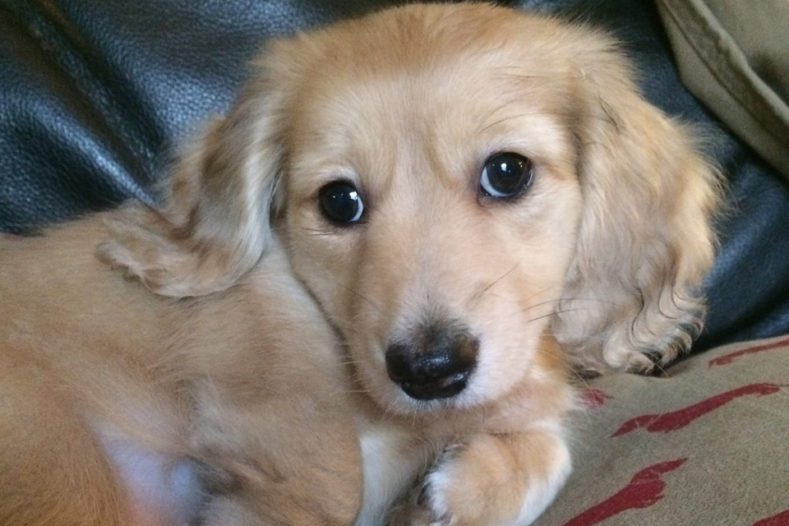 Jasmine, a long-haired Dachshund who we bred ourselves, has always been a very loving and interactive girl who is happy at home with her mum, her step-dad and her extended cat family.
When she first developed severe diarrhoea and started vomiting, we visited our local vets who advised it was probably a parasite, but she lost so much weight so quickly that we felt it necessary to go back. The vets advised us that at 18 months old things such as this really take their toll. She became very reclusive and continued with diarrhoea and losing weight. The third time we took her back they felt some lumps in her tummy and operated to find the cause. The news came back she had lymphoma – utterly devastating! We asked for a referral to Fitzpatrick Referrals and was given an appointment 2 days later.
When we arrived, she was hiding underneath chairs to get away from everything but the team did as much as possible to make Jasmine more comfortable. We went in for a consultation with Professor Nick Bacon and her diagnosis was made. It was lymphoma stage 5, the worst it can be. The staff were very friendly and compassionate, and Jasmine was admitted for a couple of days and started chemotherapy.
The care Fitzpatrick Referrals has given Jasmine is remarkable. She has gained approximately 1.5 kilos, is brighter, playing 'ruff' and tumble with the other dogs and cats at home and she is no longer hiding in dark places. I have hope now, which would not have been possible without Fitzpatrick Referrals Oncology and Soft Tissue. Their care for patients and their families is with true affection, amazing knowledge and understanding.
Fitzpatrick Referrals is the leading light in animal cancer care and they have made me feel that Jasmine and I are definitely at the right place. I cannot thank them enough. I honestly believe that without their help, she wouldn't be with us today and we pray that she continues to improve and be happy.
Read more about Fitzpatrick Referrals Oncology Service.