Meet our Interns – Leonor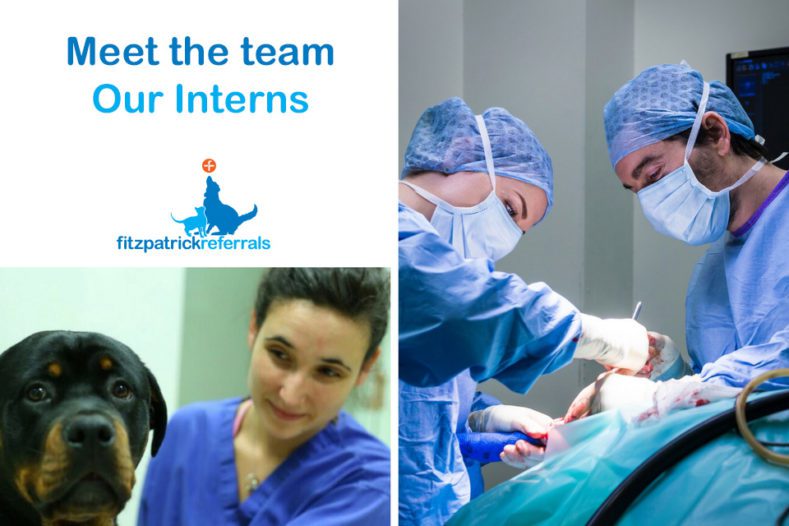 Fitzpatrick Referrals has a team of 18 interns consisting of veterinary surgeons who devote one year of their working life to improve their understanding of specialist treatment and care in orthopaedics, neurology, oncology, soft tissue surgery, interventional radiology and diagnostic imaging.
Our interns play a key role within our care team and undertake supervised rotation through their chosen disciplines – with duties such as working in kennels caring for the inpatients, to imaging patients with the radiography team and also assisting clinicians during surgery.
They have a daily involvement in both routine and cutting-edge surgical procedures meaning they are exposed to the complexity of orthopaedic and neurosurgery. Daily didactic rounds, a weekly journal club and weekly radiograph classes also help to rapidly build their surgical and decision-making skills, together with a structured teaching programme.
Interns are pivotal in our clinical care team and provide truly exceptional veterinary care and management options for our patients and clients.
We were thrilled to have former intern Leonor Roses kindly answer a few of our questions about her time at Fitzpatrick Referrals. We were so sad to see Leonor go but the entire Fitzpatrick Referrals team wish her every success in her next adventure!
NAME: Leonor Roses
AGE: 30
JOB TITLE: Veterinary Surgeon
UNIVERSITY: CEU Cardenal Herrera in Valencia, Spain
HOMETOWN: Palma de Mallorca, Spain
What were the most important factors for you when choosing a practice to apply to?
Personally, I look for a high case load, a supportive, professional and dedicated team and good facilities to provide the best possible care.
What made you decide to do an internship at Fitzpatrick Referrals?
Fitzpatrick Referrals had all of the qualities I was looking for, plus obviously the fact that you can see ground-breaking surgeries that are not performed anywhere else in the world! It is definitely worth the hard work.
Talk us through a typical day as an intern.
Wake up, have a big breakfast and smile – a new day starts! In a normal day in surgery, an intern's day starts by checking what is coming in. Then the fun begins! Reading histories, examining a patient, help with the anaesthesia, taking radiographs, assisting in surgery, helping with the recovery, and then be ready for the next one!
Interns here have a massive exposure to orthopaedic, soft tissue surgery and neurology cases, but also get involved in imaging, anaesthesia and rehabilitation on a daily basis. Interns work alongside nurses, other interns and clinicians aiming to provide the best possible care whilst learning at the same time.
This process allows you to familiarise yourself with a wide range of conditions and you can learn everything about the management of these in one of the most important referral hospitals in the UK.
How have you found the internship?
This internship has been one of the most intense experiences of my professional and personal life. I have learnt so much without even realising!
It has given me a great knowledge in the management of surgical and neurological cases as well as a whole new family. Also, being able to see all of the amazing things that can be done (that I didn't even know existed!) has been extremely motivational.
What were your highlights?
It has been a pleasure to work with the team at Fitzpatrick Referrals and everything I have learnt from them has made the whole experience absolutely worth every second.
Working with Noel has inspired me to believe that there are no limits in this profession. He made me realise that just one person can make the difference as long as you put your heart and soul in it. He taught me not to give up!
Were there any tough moments?
Absolutely, but isn't that a part of every internship? Even more, I would say that tough moments are most likely part of every step you take in your career as a veterinary surgeon.
Working under pressure is an important part of this profession, so stress and tough moments are to be expected in a busy hospital like Fitzpatrick Referrals!
What skills do you feel you have developed as a result of your internship?
Now I can see a lameness from miles away! I am able to confidently assess orthopaedic and neurological conditions, and more importantly, I know now what options are available so I can give the best advice to my clients.
What are your plans now you have completed your internship?
My plan is to work somewhere I can put into practice everything that I have learnt during this time and to keep training to become the best surgeon I can be.
What would you say to a vet considering doing an internship?
I encourage everyone to do an internship as you get to see a wide variety of conditions and treatment possibilities that are not always available in general practice, and that experience is helpful no matter where you work. It is also very enjoyable to work alongside specialists and imbibe their knowledge, so it is a unique experience that I definitely recommend to everyone.
See our jobs page for current Internship opportunities