Innovative orthopaedic procedures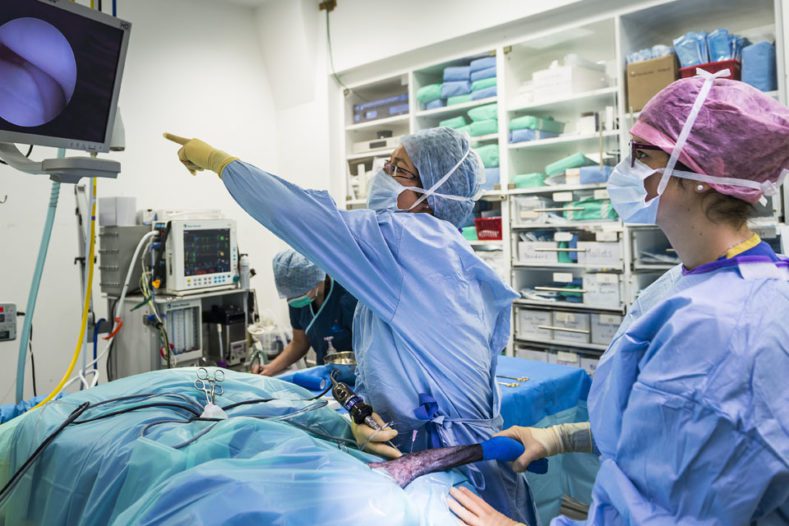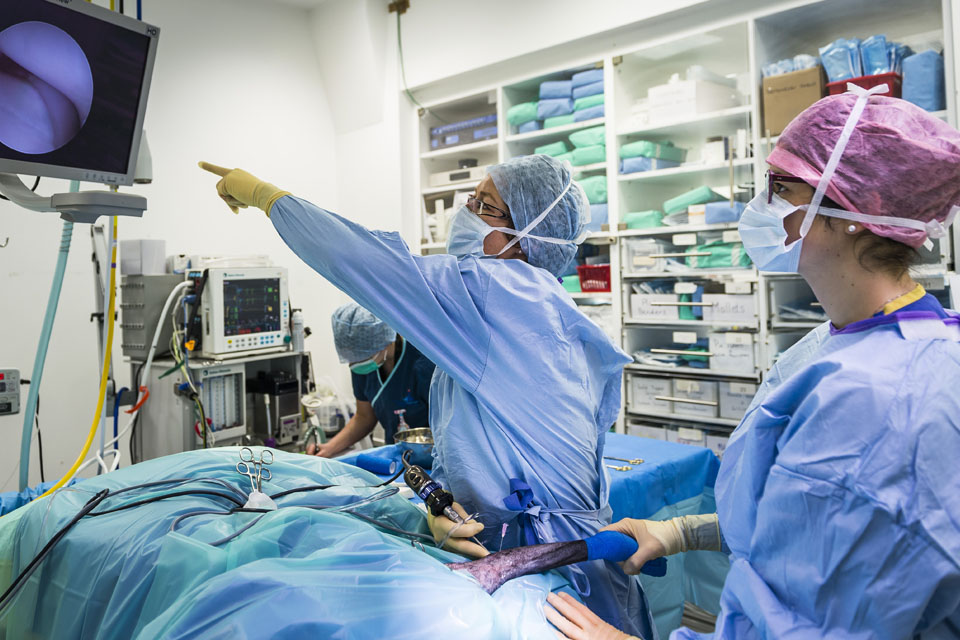 Alongside our daily caseload of routine orthopaedic procedures, we perform a small number of advanced and custom procedures for dogs and cats where traditional surgical methods may not be appropriate or when the problem is so complex or unusual that only a custom implant can help.
By working closely with a team of biomedical engineers, we are able to provide innovative solutions for animals who would otherwise face a lifetime of medical management, loss of limb or euthanasia.
Here are some interesting examples of patients who have benefited from this unique teamwork.
Max | Endoprosthesis
Max is an eight-year-old 69kg Bull Mastiff who was referred for limb sparing surgery due to a lytic bone tumour affecting his distal radius that eventually proved to be an osteosarcoma.
Tumours of the distal radius are common in large dogs and we have developed a standardised system in three sizes enabling us to keep implants in stock and operate on patients shortly after diagnosis. Prior to this, patients would have needed to wait weeks for custom-made implants or use traditional implants, which have worked less well for us.
Surgery was performed the next day and after a couple of weeks in hospital, Max was able to go home. Max returned to the practice for an initial chemotherapy protocol and continues to return for metronomic treatment and monitoring.
Max has survived a remarkable two years postoperatively and he continues to do well.
Peanut | PerFiTS
Peanut is a two-year-old cat who was referred with severe congenital orthopaedic and neurological abnormalities affecting both his lower forelimbs, though he had functioning shoulder and elbow joints. Peanut's surgery was postponed until he reached skeletal maturity, giving the bioengineers plenty of time to design the tiny implants he needed. Surgery took place six months later.
Following amputation of the distal manus and carpus bilaterally, the implants were placed. Peanut's tiny implants consisted of a medullary peg that inserted into the distal radius and two plates attaching to the radius and ulna. Beneath this a trabecular metal dome was situated to encourage skin on-growth, leaving a spigot in the external environment onto which an exoprosthesis is attached and changed as needed.
Peanut was able to go home after a few weeks of daily bandage changes and now runs riot in the quarry outside his family's home. Read more about the amputation prosthesis (PerFiTS)
Flo | Osteochondral Plug
Flo is a two-year-old Italian Spinone who was affected by an osteochondritis dissecans lesion on her left caudal humeral head.
Following a discussion detailing all of the available options, her family elected for a custom biphasic implant consisting of a titanium base and matrix of polylactide into which autologous chondrocytes were seeded.
The implant was designed to fit the shape and depth of Flo's defect and surgery took place a month later.
Nearly two years later, Flo has a normal, pain-free life and is able to enjoy long walks with her family.
Finley | Custom Hinged Total Elbow Replacement
Finley is a three-year-old Springer Spaniel who was presented with ongoing pain and lameness attributed to chronic mal-union of an elbow fracture he sustained as a puppy.
A custom hinged total elbow replacement was designed and manufactured, which consisted of a humeral component anchored to the bone with screws, a bone on-growth peg and collar and an ulnar component that was linked with a hinge and secured with a plate and screws.
Over a year later, and after some intensive physiotherapy in the first few months, Finley is able to exercise freely for over an hour each day and is pain-free without the need for medication.
Lucy | Custom Hinged Total Knee Replacement
Lucy is a 10-year-old Golden Retriever who was referred with significant pain and lameness affecting her left pelvic limb attributed to considerable arthrosis of the stifle. A CT scan revealed profound collapse of the medial compartment with bone-on-bone wear and complete erosion of the caudo-medial tibial plateau.  A custom rotating-hinge total knee replacement was designed and manufactured because of disruption of the cruciate and collateral ligaments. This consisted of two stems anchored into the femur and tibia using cement and hydroxyapatite on the bone abutment surfaces for bone on-growth.
Six months postoperatively, Lucy's lameness has completely resolved and she enjoys unrestricted activity.