Meet our Interns – Erika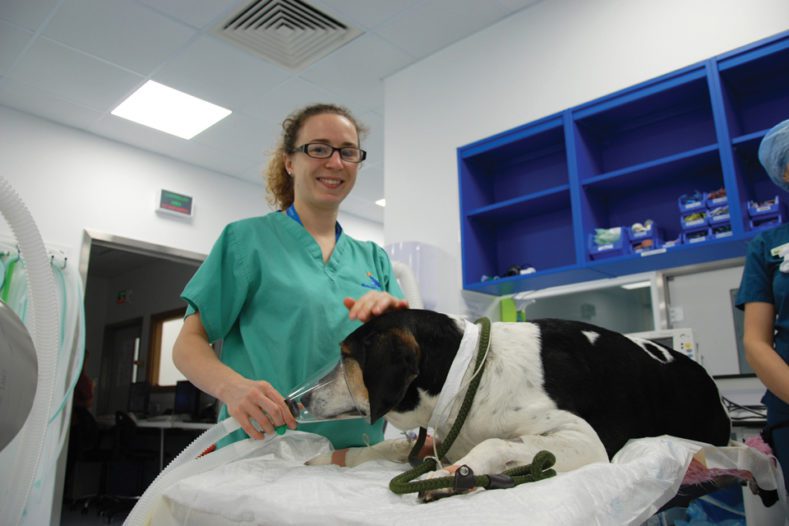 Our team of interns at Fitzpatrick Referrals are veterinary surgeons undertaking a 12-month supervised rotation with us to improve their understanding of specialist treatment and care in their chosen disciplines. Interns are pivotal in our clinical care team and provide truly exceptional veterinary care and management options for our patients and clients.
Erika is currently an intern at Fitzpatrick Referrals Oncology and Soft Tissue and has kindly taken part in this Q & A to share her experience with you.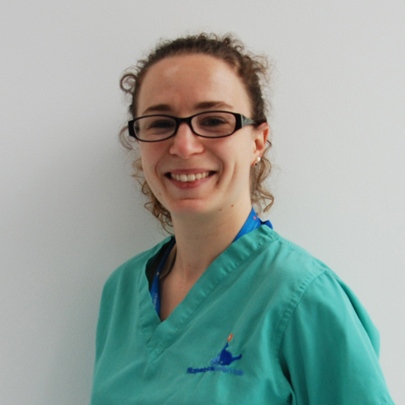 NAME: Erika Villedieu
AGE: 27 years
JOB TITLE: Veterinary Surgeon
HOMETOWN: Worcester
Which internship did you do at Fitzpatrick Referrals?
I am currently completing the surgical internship at Fitzpatrick Oncology and Soft Tissue. I started this position in 2017 and had previously completed a rotating internship at the Royal Veterinary College and spent some time working in general practice.
What were the most important factors for you when choosing a practice to apply to?
I wanted to find a centre where I would be actively involved in the entire management of the cases from start to finish in order to improve my surgical knowledge. I also really wanted to undertake some clinical research as well and have been lucky enough to present my work at BSAVA this year. Getting along with the team was also very important to me, so I appreciated being able to visit beforehand and meet everyone at the Guildford hospital.
What made you decide to do an internship at Fitzpatrick Referrals?
They are one of only a few practices in the United Kingdom offering a surgical specific internship. Fitzpatrick Referrals is very innovative in what they do. I really enjoyed my day visiting which definitely helped me decide that it was the right internship for me.
Talk us through a typical day as an intern
There really is no "typical day"! As interns, we rotate through nights, routine surgery, emergency surgery and interventional radiology along with exposure to medical oncology and diagnostic imaging.
When on the emergency surgery rotation for example, I come in before the morning rounds to check any inpatients we have. We have hospital rounds at 9am where the clinicians discuss the plan for the day. After this, I catch up on any paperwork prior to the first consultation. The intern often starts the consultation, which involves taking the history and examining the patient (and hopefully coming up with a diagnostics or treatment plan!) before reporting to the senior clinician. I would then follow the rest of the consult with the clinician and admit the patient for further investigations. I then help run any diagnostics and scrub into the surgical procedures, which usually takes us well into the afternoon. Once consults and all work-up procedures are completed, I can start writing some referral reports or discharge instructions for patients that are going home.
At 5:30pm we have evening rounds in the wards which all interns and residents attend with the on-call clinicians. After this, I either help in wards if it is busy or finish my paperwork until the night intern arrives. It is the role of the emergency intern to hand over to the night intern in the evening. Once this is done I can relax and either finish any paperwork, study or work on my research project.
How have you found the internship?
I have found this internship really enjoyable. I have really learned a lot and feel much more confident in situations where previously I would have felt out of my depth. It is an intense internship and we are sometimes tired but it is definitely worth it. I always feel useful when I am at work and the clinicians are very approachable and supportive. I have really enjoyed the great work atmosphere at Fitzpatricks, which certainly helps make the, at times, long hours more bearable!
What are your highlights?
I really enjoyed my weeks on emergency surgery. Even though the days on this rotation can be long and intense, you are fully involved in all the cases right through from initial consult to surgical assisting, aftercare and discharge. You really help take ownership of these cases, along with the senior surgeon. I also loved the weekly imaging rounds and lectures that help support our practical learning.
Were there any tough moments?
Nights are always tough for anyone, especially when there are very critical cases. It can be difficult when a critical patient we have spent a lot of time with on nights, unfortunately, does not survive and it is hard not to feel a little responsible. I guess this is part of the learning experience though.
What skills do you feel you have developed as a result of your internship?
I have certainly improved my knowledge in many areas, not only surgical. I am much more comfortable dealing with postoperative cases and critical cases. I definitely have acquired some good organisation skills and I am more confident talking to clients and writing referral reports.
What are your plans when you finish your internship?
I will be starting a residency in small animal surgery this summer.
What would you say to a vet considering doing an internship?
I would say it is a great experience and you can get a lot out of it in terms of knowledge, skills and career opportunities. It is hard but if you come into it with the correct attitude, it is 100% worth it.
See our jobs page for current internship opportunities.