Client Column: Our Morpheus by Claire Carter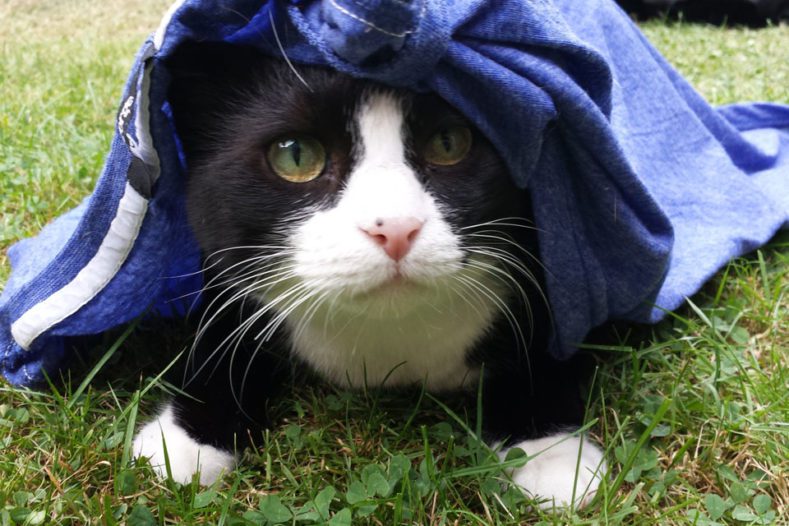 Our Morpheus, by Claire Carter
Morpheus is our much loved nine-year-old black and white moggy who has been part of our family since he was seven weeks old. We first noticed something was wrong with Morph when he refused to eat his breakfast one morning.
I checked his mouth and assumed it was a bad tooth, so we took him to our local vets the next morning by which time he was feeling very sorry for himself. Upon examination, our vet quickly discovered that his kidneys were greatly enlarged and admitted him for further investigation. We had lost another cat the previous year with similar symptoms, so we realised just how serious this was. As always, our vet was amazing at keeping us updated on the situation and by lunchtime, it looked as though the prognosis was either cancer or severe kidney failure, and the only option seemed like we would have to have him put to sleep.
After further scans that afternoon, Morph was diagnosed with huge kidney stones that had completely blocked one of his tubes, and partially blocked the other tube that allows the urine to flow into his bladder. Although we were initially relieved to hear it was not cancer, our vet soon explained that his situation was still very serious and if he did not receive emergency surgery to clear the blocked tubes that day, we would lose him.
Our vet worked tirelessly to stabilise him, as his heart rate had dropped dangerously low and he could not be transported safely for the surgery without the risk of losing him. By mid-afternoon, our vet called to say that they had arranged to have him seen by Fitzpatrick Referrals Oncology and Soft Tissue in Guildford and that he was now stable enough for us to take him there.
Upon arriving at Fitzpatrick Referrals, Gerard and his team were prepped and waiting for us, and we were immediately taken into a consultation room where Morph was whisked off for further scans. Gerard then explained in detail, the surgical procedure of inserting a Subcutaneous Ureteral Bypass (SUB) device, a tube that would bypass and do the job of the blocked ones and Morph was taken directly into surgery. It was such a worrying time but Gerard called us as soon as the surgery was done with an update and the good news was that everything had gone well.
Morph spent a few days being looked after by the team, as he had also been fitted with a feeding tube into his throat. It is common for animals to not eat following this type of surgery for up to six weeks.
We were so relieved to get our boy back home and have him on the road to recovery. After three weeks he was finally eating normally and could have his feeding tube removed.
Gerard also flushed his new tubes and carried out scans to ensure they were working correctly. We are now a few months down the line and Morph is back to living his life fully, which in his case means getting up to trouble!
We cannot thank everyone at Fitzpatrick Referrals enough for all they did and continue to do. We are so grateful to everyone who was involved in Morph's care. What an amazing team of people who truly do perform miracles.
Three years on
July 2021
Since Morpheus first visited us for emergency treatment in 2018, he has also had two stones removed from his bladder.
Morpheus has done incredibly well and he visits Specialist Dr Gerard McLauchlan every 3 months to have his SUB flushed via a port to help prevent infection and further stone formation.
His mum is so happy with how everything has gone over the three years.
Read more about our Interventional Radiology service