Newly registered RVN Nia on beginning her vet nursing career at Fitzpatrick Referrals
We caught up with newly registered veterinary nurse Nia a few months after beginning her nursing career at Fitzpatrick Referrals, where she shares an insight into the world of referral nursing and the exciting opportunities it offers.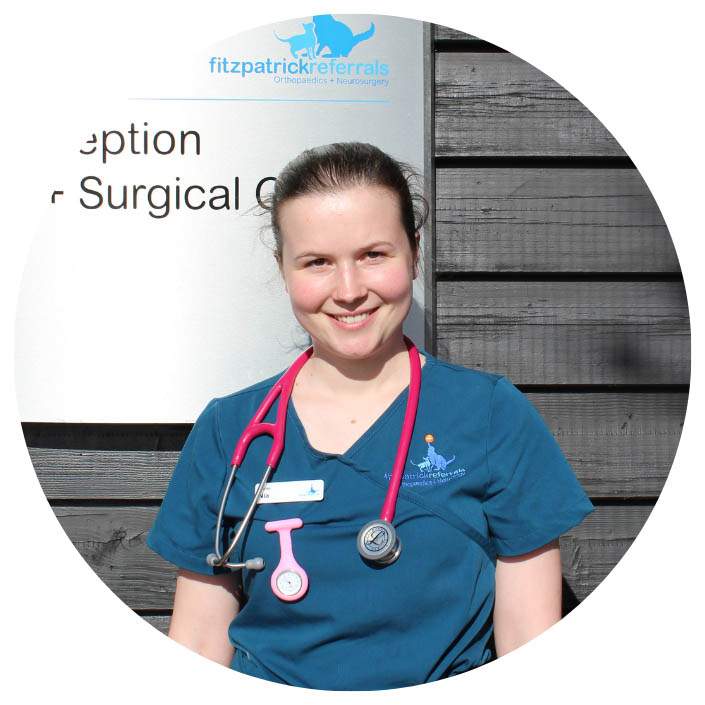 NAME: Nia Ball
TEAM: Wards
JOB TITLE: Registered Veterinary Nurse
QUALIFIED: July 2022
JOINED FITZPATRICK REFERRALS: July 2022
What attracted you to a career in veterinary nursing and what was your education pathway to qualifying?
I've always wanted to work with animals and vet nursing was a perfect fit for me. I want to help as many animals as possible and promote animal welfare. I completed a four-year degree course, BSc (Hons) Veterinary Nursing with Small Animal Rehabilitation, at Harper Adams University.
Why did you decide to pursue a career in referral nursing rather than begin in primary care as many nurses do?
During my course, I had to complete a year of placement. I decided to complete it in a small referral centre in Scotland, which I absolutely loved. Within the first few weeks, I knew this was the sort of environment I wanted to work in. I enjoy working in a referral centre because it is specialised nursing. The cases are more complicated and there are more specialised equipment and facilities.
Tell us about your current RVN role and what it involves
I am a ward nurse, which means I look after patients before and after surgery. My role includes ensuring patients are comfortable during their stay, monitoring how much they eat and ensuring they are hydrated, administering medication, checking bandages and wound dressings, providing exercise, monitoring patients for post-surgical complications, communicating with different members of the team on the progress of patients, updating families on their pets' progress and discharging patients. In addition, my favourite part which is giving patients TLC and grooming them to help them feel relaxed in the hospital environment.
What have you found the biggest challenge since starting at Fitzpatrick Referrals?
I think I set a big challenge for myself going straight from university/qualifying as an RVN to starting at Fitzpatrick Referrals within a week!
What support have you received since starting at Fitzpatrick Referrals?
I am hugely grateful for all the support I have received from my colleagues at Fitzpatrick Referrals during my first three months of working with them and as an RVN.  I have a nursing mentor who helps me to complete my six-month induction training programme, including completing a booklet on all the tasks.
What have you enjoyed the most since starting at Fitzpatrick Referrals?
The caseload – orthopaedic and neurology – which are my two favourite disciplines. I love nursing patients following spinal surgery. Some of these patients are hospitalised for several weeks, which allows me to form a good bond with them.
What makes you proud to work at Fitzpatrick Referrals?
I am proud of how committed each member of the team is to the animals in our care, providing them with the best care possible. We all recognise that patients in our care are part of someone's family. We're also able to offer such a wide range of treatment options.