Q & A with Registered Veterinary Nurse Charlotte McKenna
Registered Veterinary Nurse Charlotte McKenna started her referral nursing career at Fitzpatrick Referrals having previously worked in primary care. One year on, we caught up with her to find out how she's getting on and to share her experience as a referral nurse so far.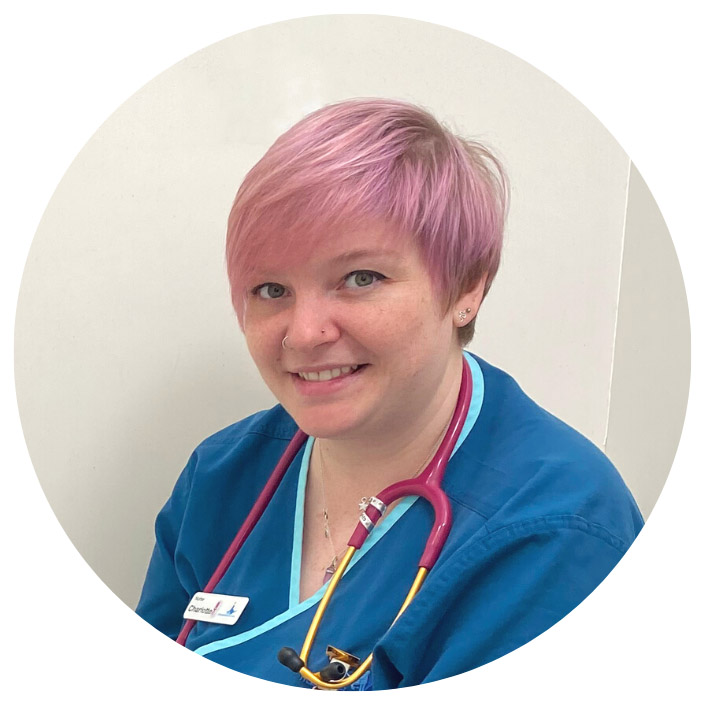 NAME: Charlotte McKenna
TEAM: Wards
JOB TITLE: Registered Veterinary Nurse
JOINED FITZPATRICK REFERRALS: January 2022
What attracted you to a career in veterinary nursing?
I have had a very passionate love for animals for as long as I can remember, and I started work experience in veterinary practice to see what it was like behind the scenes from a young age. I was always fascinated by anything I could learn about animals through books, television, or in the workplace. I went to university, and when I graduated, I was sure that I still wanted to pursue a career related to my love for animals, and I did my research to find my options for training to become a veterinary nurse.
What was your education pathway into veterinary nursing?
I took the route of the veterinary nurse diploma, which enabled me to do my training on the job while attending college one day a week for lectures. I did this after going to university and gaining a degree in psychology, which I feel has also helped my nursing as communication and reflection are such an imperative part of the role.
Tell us about your current nursing role and what it involves
I am currently a ward nurse, which means that I spend my work days with the patients in kennels before and after surgery. I get to make sure they get plenty of TLC, as well as providing them with the medications and care they need for their individual recovery.
What's the best part of your job?
My favourite part of my job is getting to know the patients that stay with us for longer periods, to be able to help them with their recovery and rehabilitation. In some cases, they have come in with severe injuries or disease and I find it incredible that I get to help get them back to their best life again and to see them heal and improve. The cuddles with patients are always great too!
Tell us about a memorable patient you've cared for at Fitzpatrick Referrals
One of my patient highlights is when I got to see a patient that was back with us for a day for a recheck on her progress, she initially came to us in such a severe condition that she was unable to walk, and had to have help for eating, drinking, and toileting. She was always such a happy patient throughout her initial recovery period, with plenty of tail wags and kisses to share with all who looked after her. To see her at her recheck able to get herself up and about and excited to see everyone was really rewarding.
What do you particularly like about the referral side of veterinary nursing and what made you decide to work in referrals?
I made the move to referral nursing after spending an experience day at the practice, where I got to see how much scope there was to grow as a nurse with so many learning opportunities.
I love that I get to use more of my nursing capabilities with so many patients, and that I get to do it all with such an excellent team around me to support me through it all.
How has your role developed since joining Fitzpatrick Referrals?
As this is my first experience working in referral nursing, I have been taking my time to find out what I would like to do with my opportunities for further education. I initially started my role as a rotational nurse to be able to get a feel for all areas of the practice, and to find out if there was an aspect that captured my interest more. After a few months, I found that ward nursing was where I felt most fulfilled, and I was fully supported in my decision to move to the wards team exclusively.
Now that I am getting more confident in my role I will be looking into my options for further education, I have heard about a variety of courses that might be of interest to me – some of my colleagues have been doing the certificate in emergency and critical care, and I attended a lecture recently which talked about RVNs being able to learn and perform acupuncture under supervision – and I can't wait to figure out what I would like to develop my skills in.
What makes you proud to work at Fitzpatrick Referrals?
I am proud to work in a place where every day I can see how much our team cares about the patients and their wellbeing. I am surrounded by amazing individuals, with a common goal of providing the best care for the animals entrusted to us.
Any advice you'd like to give to aspiring veterinary nurses?
Veterinary nursing is an incredible vocation, and every day makes the hard work worthwhile. It is a profession which brings together such caring people, and there are so many rewarding moments to remind you why veterinary nursing is so important.
The best thing you can do is take the leap and go for it! Whether that is starting your training, or wondering whether a move from first opinion practice to referral is for you, there will be people everywhere to support you and bring out your best at every turn.