Lizzie's story – cranial cruciate ligament disease
Lizzie is a 9-year-old rescue Cairn Terrier who has lived with Mr and Mrs Shave for the past eight years. They took Lizzie to see their primary care vet Alex Davies, at Park Vets in Sidcup, when she was presented with difficulty in walking on her hind limbs.
Lizzie had a number of side effects associated with the use of NSAIDs and controlling her pain was a challenge. Alex referred Lizzie to see Dr Miguel Solano at Fitzpatrick Referrals Orthopaedics and Neurology after he suspected bilateral cranial cruciate ligament disease.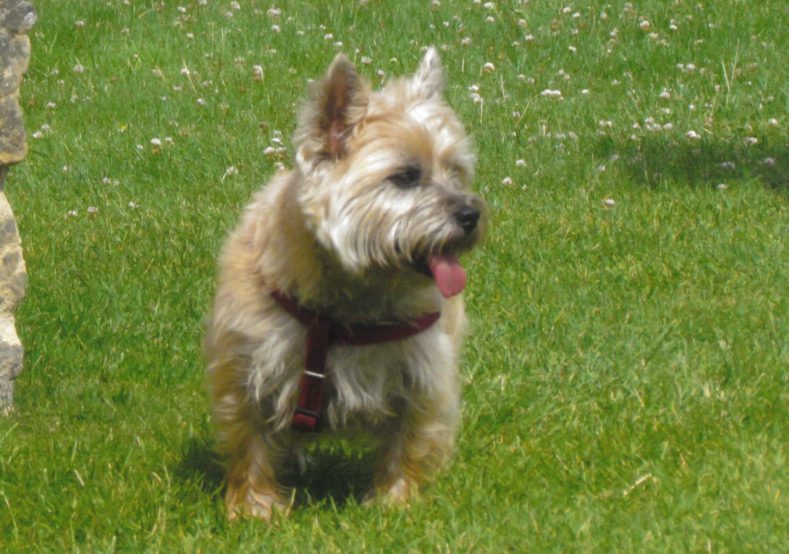 On clinical examination, Lizzie was diagnosed with unstable bilateral cranial cruciate ligament disease in her stifles. Additionally, pain on manipulation of her right hock and subsequent radiographic signs suggested severe degenerative joint disease.
Mr and Mrs Shave were keen to explore surgical options in order to reduce her pain and improve her overall function. The choice of bilateral simultaneous surgery versus staged, was reviewed with Mr and Mrs Shave and Miguel explained in detail the potential complications, recovery time, postoperative care and long-term outcome. It was decided that a bilateral simultaneous tibial plateau-levelling osteotomy (TPLO) surgery was the best option for treatment. As Lizzie's concurrent hock severe degenerative joint disease may hamper the outcome after TPLO surgery, subsequent pantarsal arthrodesis was considered depending on her recovery.
We are still in the early stages of recovery for Lizzie. It has been challenging as medical options were impossible due to side effects and anti-inflammatory drugs, but Mr and Mrs Shave's incredible dedication and Lizzie's resilience to pain has started Lizzie's long journey to recovery off to an incredible start. Lizzie and the Shave family are certainly a good example of joy despite adversity!
Dr Miguel Solano
Bilateral single session TPLO was performed and a 2.0mm Synthes locking TPLO plate and screws were applied. The surgical wounds were closed as per routine in three layers with cutaneous sutures. Post-op radiographs were satisfactory. Post-operative analgesia was provided by intra-muscular and transdermal administration of opioids.
Lizzie recovered well and was discharged from Fitzpatrick Referrals four days later. Fitzpatrick Referrals are continuing to aid Alex Davies to manage postoperative pain and monitor Lizzie's progress.
Lizzie has been a delightful patient. She's always bright and cheeky but with just the right level of attitude to be endearing. Her strongest character trait, which has also been our real challenge, is that she hides immense levels of pain.

We first saw Lizzie for physiotherapy to help medically manage her bilateral cruciate injuries. We've been working alongside Fitzpatricks to do what we can for her, but it's become clear that medical management wasn't going to work. Her tibial plateau slopes are some of the worst that we've seen in a long time and she's also been hiding a weakness in her hock.

So it is that we've got to the stage where this stoic little dog has been in for her surgery. I've been in regular contact with Miguel all the way through, and both I and the owner have found him brilliant.

It's early days in her recovery, but so far so good, and we're all crossing our fingers for the delightful little trooper!
Alex Davies BVsc MRCVS PGCert SAS AVP