FORWARD Symposium delivered world class knowledge in sell-out event
On Sunday 31st January 2016, the inaugural FORWARD Symposium brought together three world leaders in agility, working and performance dogs at an innovative event unique to the working dog calendar.
Set in the grounds of Wildwood Golf and Country Club in Surrey, Dr Chris Zink, Natasha Wise and Professor Noel Fitzpatrick presented to over 200 delegates.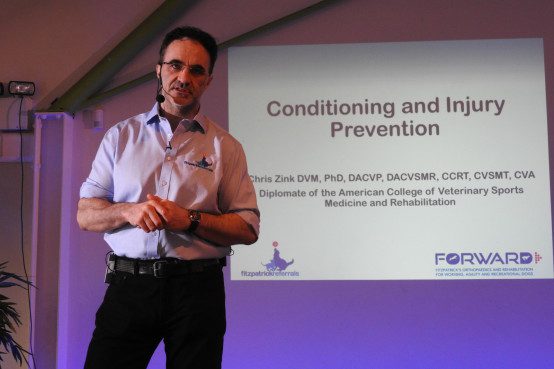 The speakers provided world-class expertise covering high end, specialist veterinary medicine and surgery and the rehabilitation necessary to bring your dog back to competition condition. In addition, there was top level advice on optimal training and preparation of your competition agility and working dog. Delegates agreed this was the most exciting event of its kind ever held in the UK.
Delegates were also delighted to meet the Fitzpatrick Referrals rehabilitation team who took time out of their busy schedules to join the FORWARD Symposium. Their ACPAT Chartered Physiotherapists and ABC Level 3 Hydrotherapists were in attendance to introduce the new FORWARD initiative, as well as discussing how fundamental a tailor-made rehabilitation programme is in your dog's recovery.
The state-of-the-art rehabilitation centre is based at the Fitzpatrick Referrals hospital in Eashing, Surrey and offers the most advanced facilities in manual techniques, muscle stimulation, laser and shockwave, and rehabilitation exercise therapy. In addition, the team is also fortunate to have a large hydrotherapy pool and an underwater treadmill beneficial for increasing flexibility, strength, core stability and cardiovascular fitness.
Attendee feedback from the FORWARD Symposium:
"Thank you for a fantastic day.  It was amazing to see and listen to 3 such talented people."
"What a superb day I had… Natasha Wise, Dr Chris Zink and Professor Noel Fitzpatrick were absolutely brilliant."
"Thoroughly enjoyed the day and all the lectures and speakers were excellent!"
"What an amazing day. Truly inspirational. My brain hasn't stopped buzzing and I want more!"