Welcome to the summer 2017 Friends newsletter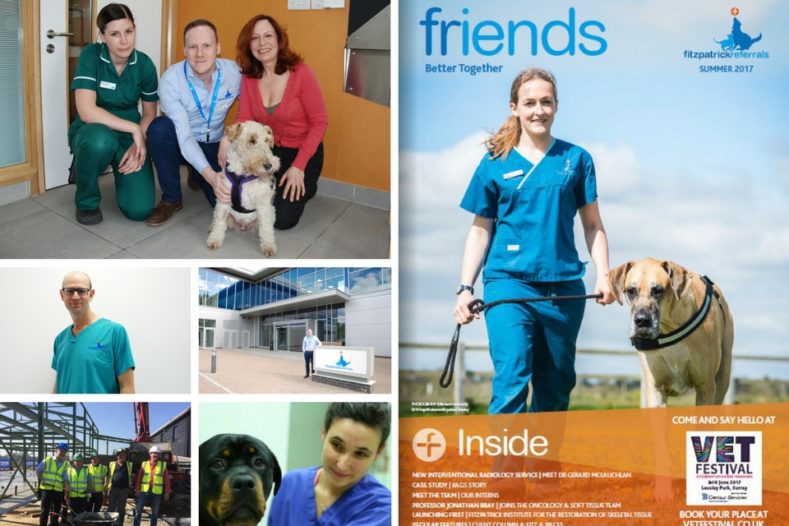 Firstly, thank you for your continued support and for entrusting us with the care of your patients and their families. It matters greatly to us that we deliver unparalleled care but also to ensure that we are giving you the service you need to give your clients all of the options.
Every day we increasingly experience families who want the same level of care for their animals, as we would expect for ourselves. We know you share our goal to deliver exactly that.
We are entering an incredibly exciting time at Fitzpatrick Referrals as we announce the launch of a new service and the imminent launch of another.
I am delighted that Dr Gerard McLauchlan has joined the team at our Oncology and Soft Tissue Hospital to lead the new dedicated Interventional Radiology service. Gerard has an exceptional skill set that will complement our growing compassionate team. Since joining he has already made such a positive impact including helping Rags, a patient who had not urinated independently for over seven years. Read Rags' story.
We are also in the midst of an exciting new construction project, where we are expanding our existing Orthopaedic and Neurology Hospital to host a brand new centre called FIRST. This will transform the way we treat orthopaedic conditions as regenerative medicine takes to the fore.
We are also once again approaching the VET Festival, which is taking place on Friday 9th and Saturday 10th June in Loseley Park, Surrey. My goal in founding this event was that we would have great fun learning and that ultimately the finances would return to help the animals we committed to serve when we started our professional journey. 
A core theme for this year is 'Wellness' – for the animals of course – but also for those of us looking after them. Our vocation can be stressful and extraordinarily demanding. We selflessly give ourselves, we worry and we take failure very personally. We often have the weight of the world on our shoulders and sometimes our daily lives do not match up to our expectations when we came into the profession.
I sincerely hope that we will all find a sense of solidarity in a community spirit of mutual support and that we become stronger going forward together to tackle these issues head on in unity of purpose.
Thank you and I wish you a wonderful summer.
Professor Noel Fitzpatrick
Read our Friends Newsletter Summer 2017
Error embedding FlippingBook shortcode, please check the flipbook url. (https://online.flippingbook.com/view/181562/)