Fitzpatrick Referrals expands Oncology with appointment of Dr Iain Grant
Dr Iain Grant has joined Fitzpatrick Referrals Oncology and Soft Tissue in Guildford, Surrey as Senior Clinician (Medical Oncology and Research).
Iain qualified from the University of Bristol in 1990 and since then has worked in New Zealand, Sydney and California where, in 2004, he began his residency training in Medical Oncology at the University of California. He became a Diplomate of the American College of Veterinary Internal Medicine in the subspeciality of Oncology at Ohio State University in 2007.
Following Iain's return to the UK, he was a Clinician Teacher at the University of Liverpool (2008-2012) and University of Glasgow (2012-2014). Iain worked at a private speciality practice in the North West from 2016, before joining the team at Fitzpatrick Referrals to widen the scope of the oncology service and bring extensive experience in advanced medical oncology therapies.
Iain said,
Joining the team at Fitzpatrick Referrals as their medical oncology specialist fulfils a long-term ambition to work in a centre solely dedicated to the compassionate and skilled care of cats and dogs affected by cancer. This is a genuine opportunity for me to continue to grow as a clinician and as a person in a supportive, forward-thinking team of like-minded specialists and I am thrilled.

I am also excited about what future possibilities we will be able to offer, not just for our patients, but also for animals as a whole. As someone who cares deeply about my profession, I also look forward to supporting the learning of veterinary colleagues, support staff and junior colleagues in training. I believe that no matter what our level of expertise is, we are all working towards a common goal and that is to bond centred veterinary practice with personal growth and development.
Clinical director of Fitzpatrick Referrals Oncology and Soft Tissue, Professor Nick Bacon adds,
Iain is known throughout the world as a gifted and compassionate oncologist. He is renowned for his commitment to improving cancer care in veterinary medicine, both when the patients are in the hospital, but equally when at home under the care of the family vet. That fits perfectly with our goal of moving the discipline forward in all areas and I am looking forward to future innovation and progress with Iain.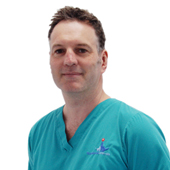 Launched in 2015, Fitzpatrick Referrals Oncology and Soft Tissue aims to change the way cancer is treated in companion animals. The services continue to grow and Fitzpatrick Referrals is delighted to have RCVS Specialist in Veterinary Oncology (Small Animals) Dr Iain Grant join the team, to head up the medical oncology service.