Fitzpatrick Referrals undertakes first canine prostate embolisation procedures in Europe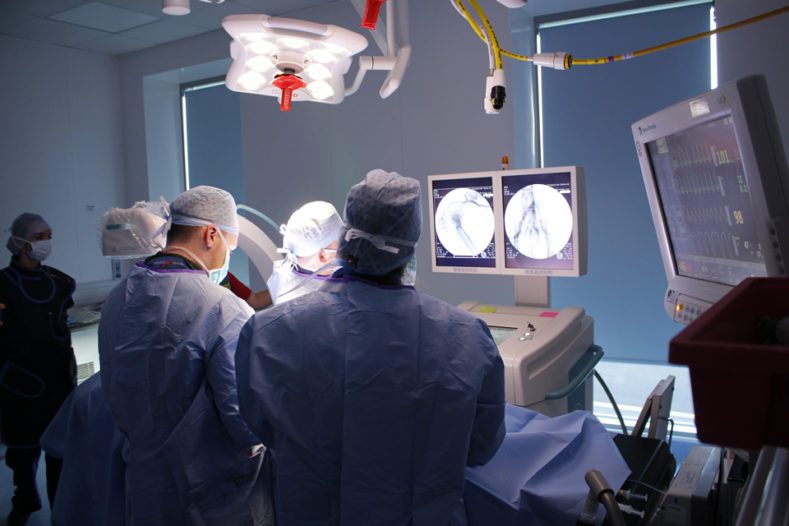 Fitzpatrick Referrals is now offering arterial embolisation as a treatment for canine prostatic neoplasia – the first veterinary centre to do so in Europe.
Gerard McLauchlan (European and RCVS Specialist in Small Animal Internal Medicine, Fitzpatrick Referrals Oncology and Soft Tissue) first carried out the procedure in December 2018 and has since performed it on two more patients.
Prior to joining Fitzpatrick Referrals, Gerard completed a Fellowship in Interventional Radiology at the Animal Medical Centre in New York. He is the only Specialist in Europe to have undertaken this advanced training in Interventional Radiology.
Prostatic embolisation in veterinary patients has only been performed in a small number of centres globally and not previously in Europe. The initial results from a study at the University of California Davis documented up to a 40% reduction in the volume of prostatic tumours following embolisation along with significant improvements in the patient's quality of life (the ability to pass urine and faeces in particular).
Prostatic embolisation can now be performed alongside targeted intra-arterial (IA) chemotherapy. IA chemotherapy has been administered to over forty patients with lower urinary tract tumours at Fitzpatrick Referrals in the past 24 months with excellent results (up to 30% reduction in prostatic size and improvement in clinical signs). The Interventional Radiology team at Fitzpatrick Referrals have extensive experience in embolisation techniques as they regularly perform chemo-embolisation of other non-resectable tumours including large hepatocellular carcinomas.
Commenting, Dr Gerard McLauchlan, Specialist in Small Animal Internal Medicine explains
We have been developing and refining new techniques for treating various cancers over the past two years at our oncology and soft tissue centre. Really excellent results have been seen so far in cases with prostate cancer treated with intra-arterial chemotherapy and embolisation is the next logical step for managing this condition.

Prostatic embolisation has only been performed at two centres in the United States and has shown very promising results in terms of patients quality of life and overall survival. With a recent study documenting the mean survival of patients with prostate cancer receiving standard intravenous chemotherapy as being only 101 days these new techniques offer an amazing opportunity to truly change how we view and manage this condition.
Read more about prostate cancer
Read more about our interventional radiology service