Sarah Girling awarded prestigious BSAVA award for outstanding contributions to veterinary surgery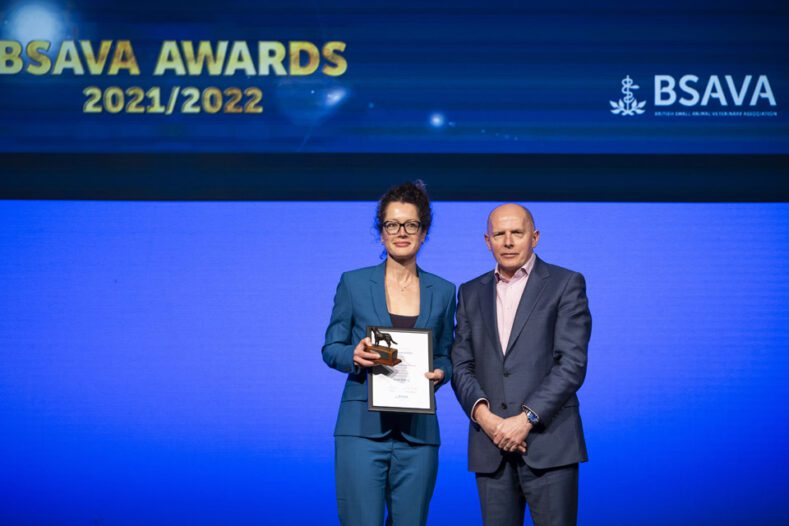 Congratulations to Senior Surgeon Sarah Girling who has been announced as BSAVA's 2022 award winner of The Simon Award for outstanding contributions in the field of veterinary surgery.
Sarah Girling is committed to clinical excellence in the field of orthopaedics.

She is an integral member of the successful hip replacement programme at Fitzpatrick Referrals, is the supervisor and mentor to the Fitzpatrick Referrals junior surgical team (residents and interns), Arthrex consultant and educator, AOVet lecturer and member of the advisory group for the recently launched canine crucial registry.

She has an unrivalled work ethic and inspires those around her to achieve the same.
BSAVA Honorary Secretary, Krista Arnold said:
Congratulations to all those that are receiving an accolade. All the nominations were exceptional, making judging particularly difficult this year.
The Simon Award is presented to a member of the BSAVA for outstanding contributions in the field of veterinary surgery and is named after a guide dog whose sight was restored by surgery. Simon, a Golden Retriever owned by Mr J. Thomas, a blind telephone operator, also became blind and had his sight restored by surgery, enabling him to resume his full duties as a guide dog. Mr Thomas, in appreciation of the work and surgical skill which had made this possible, inaugurated and made this award at the 1962 annual Congress.
Sarah Girling said: 
Thank you to the anonymous colleague who kindly nominated me for this award, it is nice to be recognised by a fellow member of the veterinary community for one's contribution to pet patient health and well-being.