Juno's story – humeral condylar fracture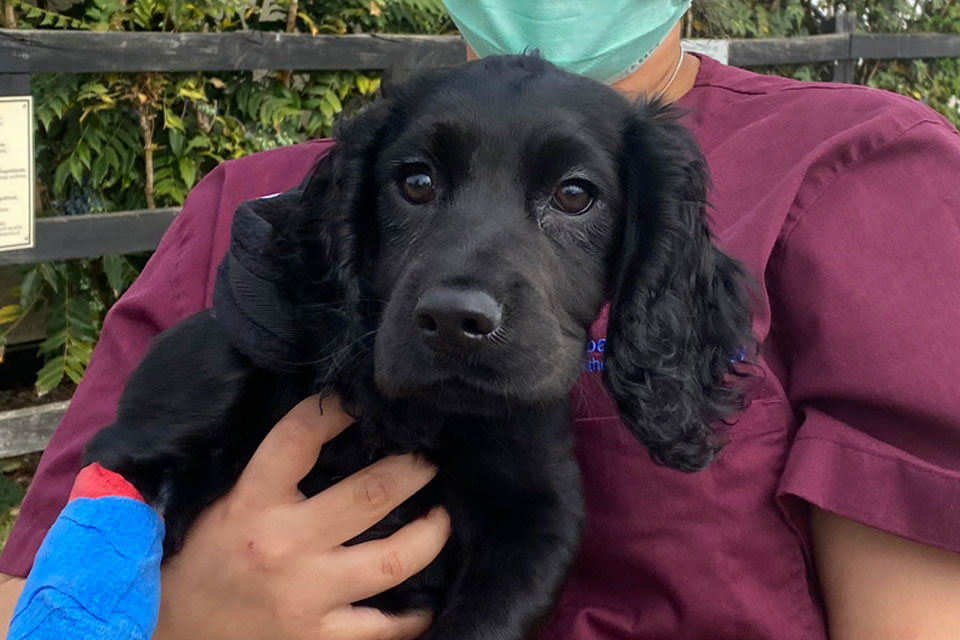 On a recent visit to the wards at our orthopaedics and neurology practice, colleagues passing by in the corridor whispered "have you come to see Juno? You must visit Juno!", "Are you looking for Juno, she's just gone outside with Auxiliary Melissa"…
Well, how could we not visit this dear little puppy and share her story.
Three-month-old Cocker Spaniel Juno had arrived earlier that day, as an emergency referral with a left humeral condylar fracture, after a plank of wood accidentally fell on her at home. She was admitted by Surgical Resident Dr Núria Comas, who discussed in the consultation the planned procedure with Juno's dad.
Pictured here being carried outside to the grass for a comfort break before her surgery with Rotating Auxiliary Melissa, Juno was soon taken into the prep room where Registered Veterinary Nurse Ella sedated her in preparation for anaesthesia to be induced.
Surgery
Senior Clinician Dr Mario Coppola, with the help of Surgical Resident Dr Marius Stordalen and Surgical Intern Dr Dominique Palper, performed the left lateral humeral condylar fracture repair surgery, stabilising it with a 3.5mm titanium screw, a 0.9mm k-wire and plate.
Recovery
Juno recovered well from surgery and was as good as gold resting in her kennel.
Being a young puppy it's important for her wellbeing to be back home in her familiar surroundings as soon as possible, so we were pleased that 29 hours after admission with great teamwork, she was well enough and ready to return home.
Recheck
Six weeks later, Juno's little fan club at the practice were very happy to see her back for her recheck examination and x-rays. We're pleased to report that her elbow is making a good recovery, with no signs of lameness and normal, pain-free range of motion.