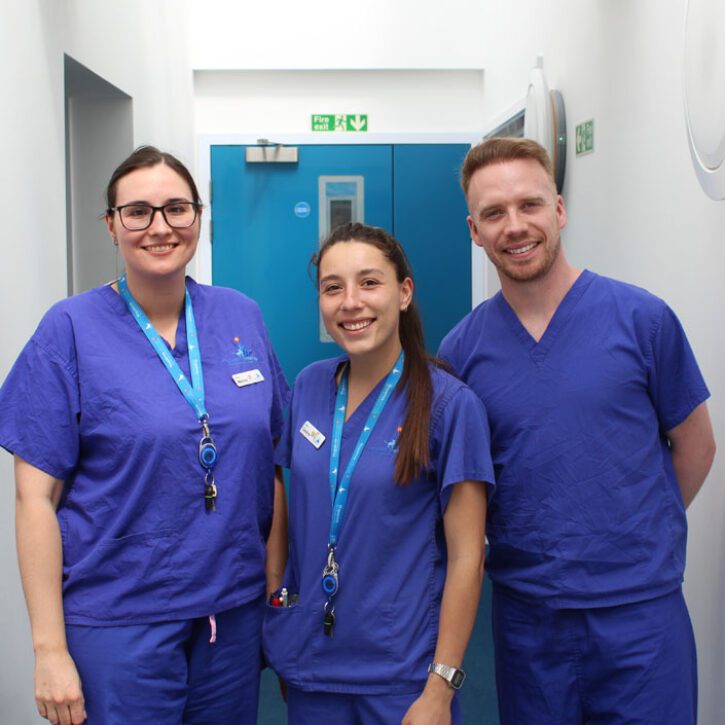 Specialist areas
Intern team
Interns (Duty vets)
Our team of interns are made up of veterinary surgeons that have decided to devote one year of their life to working at Fitzpatrick Referrals with the sole aim of improving their understanding of canine and feline orthopaedics and neurosurgery.
The team rotate through the hospital – working in kennels caring for the inpatients, in the radiography department imaging patients and lastly assisting the senior surgeon team during surgery. Daily didactic rounds, weekly journal club and weekly radiograph classes help rapidly build their surgical and decision-making skills.
The interns do not carry out surgical procedures at Fitzpatrick Referrals but are responsible for overseeing the care carried out by the nursing team and providing instant medical support, an intern is always there when a patient is induced and under anaesthetic.
Their role is to assist the senior surgeons, by helping prepare the patient for surgery, to assist in positioning the patient during surgery and ensure the correct equipment is available for the planned procedure.
Dr Sarah Lynam, Surgical Intern 2021
My internship has been everything I expected and much more. I knew that I would be facing many challenges, particularly as a new graduate in the company of many vastly experienced auxiliaries, nurses, interns, residents and senior clinicians. However, the team here has been supportive and encouraging of me.

The learning experience has been second to none; being surrounded by so many talented colleagues has encouraged me to keep constantly improving and striving for more. The surgeons apart from being highly experienced are also willing, dedicated and accommodating teachers. You are made to feel valued and included at every stage of the process and for all of that, I remain deeply grateful.
Read Sarah's account of her internship experience.
Fitzpatrick Referrals offers a variety of internship programmes throughout the year.
Find out how you could take part in our intern scheme.