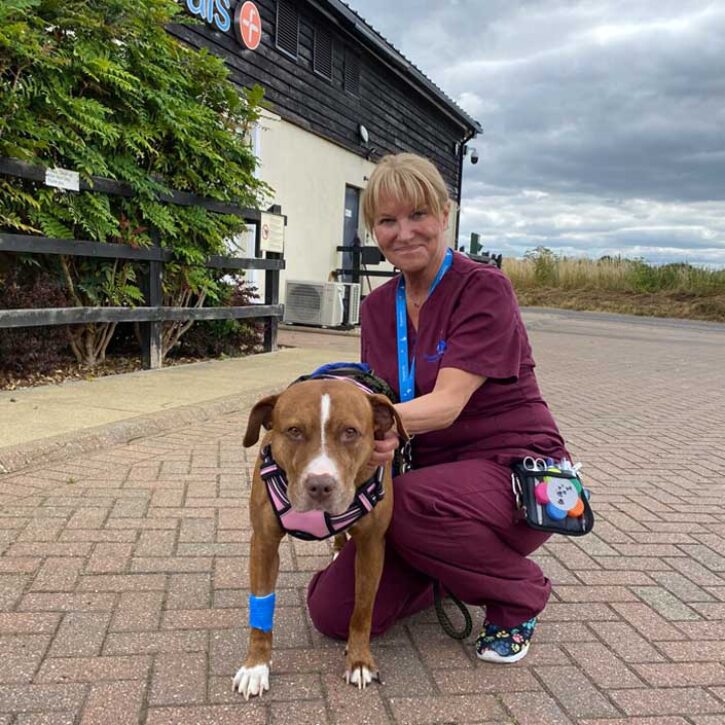 Ward Veterinary Care Assistants
Our ward veterinary care assistants (VCAs) are responsible for the dedicated care of all the patients who are admitted to the practice.
It is their role to ensure that each patient's stay is comfortable and their environment is a haven of healing. The ward VCA team walk, feed, clean and groom patients whilst they are in hospital. Every patient has its own individual needs, both physically and emotionally, and the ward VCAs aim to fulfil these needs.
From the really nervous patients who learn to trust you and become confident enough to eat their food and enjoy spending time with you, to those who just want cuddles and reassurance.
We are here to help each and every patient feel safe and loved whilst they are away from their home and family. We make their stay in hospital as positive and stress free as possible by trying to give them the love and attention they would receive at home. Some patients just need a blanket tucked around them and some need company while they eat. Some patients prefer hand feeding or their food blended and some would rather we fed them off a spoon.
Teamwork is very important, as it can take up to four or more people to help a large dog go out for a walk or even just to stand up after surgery. The ward VCA team take inpatients to the hydrotherapy pool for their treatment sessions and assist the physiotherapists with the therapy they are given in the wards. We have a great team who work together to ensure we achieve the best for our patients. Because of the specialist surgeries that some of our patients have it is important we understand how to move and handle each of them correctly and we work under the direct supervision of the ward nurses and duty vet teams to make sure each and every one of our patients are in the safest hands.
Our job is so rewarding. We are humble and honoured to share our patients' special moments like the first flickers of movement in their legs after spinal surgery, or the first steps they take after surgery but most of all watching them grow stronger each day. This makes it the best job ever. We bond so strongly with each and every patient which makes you feel proud to have been part of that animal's journey of recovery.