'All You Ever Wanted to Know About Joint Replacement' kicks off with Fitzpatrick Referrals Lecture Series 2
The Fitzpatrick Referrals 2011 Lecture Series for Veterinary Surgeons continues on 22 June with the first lecture in Series 2, Noel Fitzpatrick's 'All You Ever Wanted to Know About Joint Replacement'.
The second part of the lecture series for Veterinary Surgeons will focus on the theme of 'Advancing Your Knowledge of Trauma and Joint Disease' and Fitzpatrick Referrals will welcome Professor Stuart Carmichael as guest lecturer in July.
Series 2 Lectures run as follows:
'All You Ever Wanted to Know About Joint Replacement' – Noel Fitzpatrick, 22 June
'Management of Osteoarthritis in the Dog and Cat: What You Should Know' – Stuart Carmichael, 20 July
'Trauma in Cats: A Cat Is Not a Small Dog' – Sarah Girling, 24 August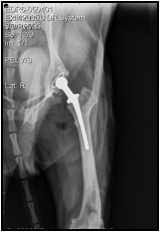 June's lecture will aim to explain current modalities of elbow, stifle and hip replacement in animals of all sizes from cats and small dogs to large dogs and make surgeons aware of the indications and implications of these to support discussion with clients.
Joint replacement is the standard of care in humans for end stage arthrosis, but whether we should be performing this procedure on some or many animals remains a subject of controversy in veterinary medicine.
Noel Fitzpatrick commented; "The aim of the lecture series is to offer primary care clinicians access to the full spectrum of interventional options for common orthopaedic and neurology problems to provide a clearer understanding on when to refer and the knowledge to enable surgeons to perform some of the procedures themselves.  We want to support and enhance the relationship that the primary care clinician has with their client and help them to strengthen their offering, right down to explaining to them what all the terminology means by putting it in a context that they can describe to their clients."
Lectures to date have been fully subscribed and Fitzpatrick Referrals advises anyone who wishes to attend to book early to guarantee their place.
The lectures will take place monthly on a Wednesday evening from 7.30pm at Fitzpatrick Referrals, Halfway Lane, Godalming, Surrey, GU7 2QQ.
Refreshments will be available from 7.30pm – 8.00pm and delegates will have the opportunity to take part in a Q & A session following the lecture.  Each lecture counts as two CPD hours.
For details of the full lecture programme and dates, and to reserve your place, please click here or contact reception on 01483 423 761