How I got into veterinary nursing, by Kelly Ripley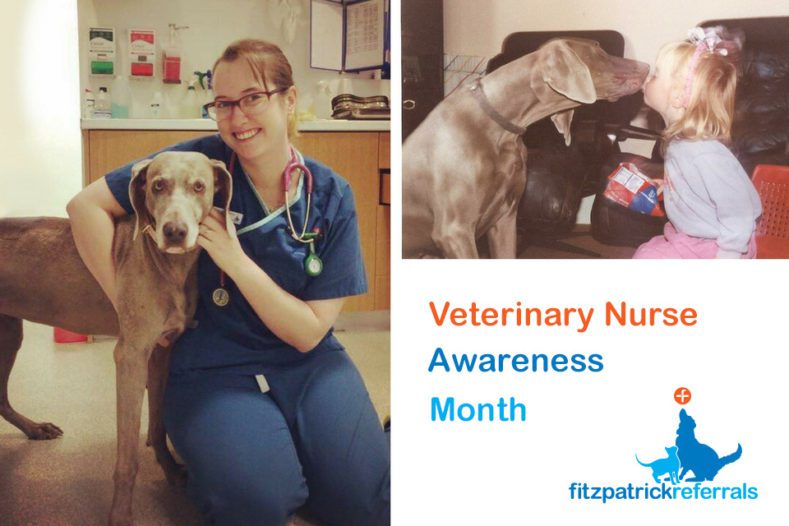 For our final post as part of Veterinary Nurse Awareness Month, Kelly Ripley shares how she came to her current role as a referral veterinary nurse at Fitzpatrick Referrals and the important role our nurses have in ensuring the very best care is given to our patients.
What made you become a veterinary nurse?
I've wanted to be a veterinary nurse since I can remember. My family was (and still is!) very animal orientated and this luckily meant my brother and I had the chance to have a large variety of pets – everything from dogs and guinea pigs to chickens!
I really enjoyed the responsibility of looking after them all, however, I hated them becoming sick and would attend their vet appointments with my parents, to find out how we could make them better. Once I learnt that you could have a career nursing animals, I never wanted to be anything else!
How long have you been a veterinary nurse and tell us about your journey?
I've been nursing for 10 years. It all started when I turned 14 years old and I became a volunteer at my local vets. I used to go in after school and help clean kennels, sterilise instruments, walk patients and watch surgeries when possible. This helped me realise how much I wanted to be a veterinary nurse.
Once I left school at 16 in 2005, I applied to Merrist Wood Agricultural College to gain a qualification as an Animal Nursing Assistant (ANA). Shortly after, I then started my career at Fitzpatrick Referrals as a veterinary auxiliary.  This role included me caring for all the inpatients' needs, sterilising surgical instruments, cleaning surgical areas, washing bedding, cleaning reception and consulting areas and being there to assist the nurses when needed. This was also where I first fell in love with theatre practice and surgical instruments and implants – especially screws.
Once I gained my qualifications as an ANA in 2006, Professor Noel Fitzpatrick offered me a student vet nursing position. I then attend MYF College in 2007 once I turned 18 years old.
A couple years later I qualified as a registered veterinary nurse. In 2012, I was given the position as surgical auxiliary coordinator. In this role, I run a team of surgical auxiliaries, making sure that surgical instruments and implants are cleaned, sterilised and ready for surgery in a smooth and efficient fashion. I also order the implants and instruments, deal with implant stock rotation (with help from my team!), plan the rotas for my team, screws(!) and also do my normal nursing duties such as general anaesthesia and patient care. I really enjoy this position as I get to work in an area I really enjoy, but I also I really enjoy working with my team, who I am incredibly proud of.
I plan to stay at Fitzpatrick's for the foreseeable future as after nearly 12 years it really feels like my second home and the work we do is incredible!
What attracted you to a referral practice?
The family dog I grew up with, Freya a Weimaraner, had suffered from hip dysplasia in her later years in life, and the only form of treatment at the time was NSAIDs (non-steriodals). I always thought there was more that could have been done in terms of treatment for her.
When I went for my interview with Noel and his head nurse at the time, Gemma, I realised that there was a lot that could be done in the way of treatments for orthopaedic conditions and Noel had big ideas for the future. That's when I realised I wanted to join a referral practice.
What's the best part of your job?
Anything to do with surgical instruments! Seriously though it's about working with a great team and the incredible work we do improving patients lives.
What's the hardest part of your job?
When we lose patients.
What makes you proud to work at Fitzpatrick Referrals?
The love and care we provide to our patients.
Our brilliant team of nurses and auxiliaries.
How far we've come in the last 11 years with treatments and surgeries.
Thank you Kelly! If you're interested in finding out more about our nursing roles and teams, visit our patient care team page.
Would you like to join our team? See our latest job vacancies