Life as a referral veterinary nurse by Sarah King
As part of Veterinary Nurse Awareness Month this May, we've been chatting with a few of our nurses to share how they got into referral nursing, and give an insight into the profession and life at Fitzpatrick Referrals.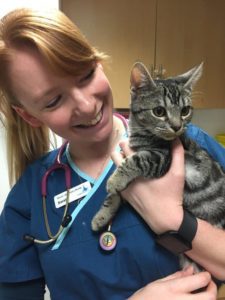 First up is Senior Veterinary Nurse, Sarah King, who works at Fitzpatrick Referrals Orthopaedic and Neurology centre in Eashing, Surrey.
What made you decide to become a veterinary nurse?
Ever since I can remember, I have always wanted to spend my life around animals. I used to spend my childhood rescuing ladybirds and various insects from the birdbath and putting them to safety on a tree, and wanting to rehome every abandoned dog, cat and small fluffy I saw. I guess you could say that I have always had a passion for loving and helping animals, and so becoming a veterinary nurse was a no-brainer to me.
How long have you been a veterinary nurse?
I have been a veterinary nurse now for eight and half years, but it does feel like a lot longer!
Talk us through your journey of how you got to where you are now?
I was lucky enough to find a veterinary nurse training position at my local small animal primary care practice – Nine Mile Veterinary Hospital – where I worked for a year as a veterinary assistant, before being allowed to enrol on the Level 3 Diploma in Veterinary Nursing at MYF in Aldershot. For three and a half years, I worked four days a week and attended college for one day a week, before finally graduating in 2013 and enrolling on the RCVS register as an RVN.
Once qualified, I worked for a year at the same practice before making the jump to referral nursing at Fitzpatrick Referrals in 2014. I have now been here now for nearly three years as a prep nurse and was promoted to a senior nurse last year. I am part of the chemotherapy team, which means I have had specialist training in the handling and administering of chemotherapy drugs, and also means I have regular appointments with the owners and their pets who are undergoing chemotherapy. I have also been lucky enough to be allowed to do my Graduate Diploma in Professional and Clinical Veterinary Nursing at the Royal Veterinary College, and if all goes to plan, I will be finishing the course in September this year, and will be a GradDipVN!
What attracted you to work in referral nursing?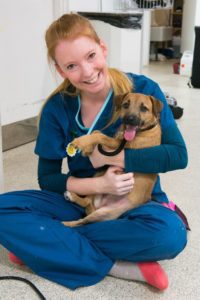 Becoming a referral nurse was always my dream. I was drawn to the fast pace and busy case load, and also loved the idea of being able to extend my knowledge and push my comfort zone – I personally thrive off a challenge. I have also always loved surgical nursing, and so working in a referral practice where more specialised and unique surgery is performed is perfect for me, as no two days are ever the same.
How is it different to primary care veterinary nursing?
The pace and day layout of referral nursing is very different to primary care veterinary nursing. The nursing in referral is more specialised – we have surgical nurses, ward nurses, triage nurses etc. – each area having its own unique and specialised training. Whereas in primary care, the nursing is more generalised, where your day and what you do relies solely on what is happening on that day – you could end up in wards, in theatre and even on reception all in one day.
What's the best part of your job?
The best part of my job is knowing that we are more often than not, making a life changing difference to an animal's life. We are here to give hope by giving the owner options to save their beloved family pet's life, which are not always readily available in general practice. Nothing is more rewarding than receiving an email from a client with a video or picture of their pet bouncing around as normal after a major and sometimes even life-saving operation which you were a part of. I struggle to believe there is a more rewarding career out there.
What do you least like about your job?
I think the only part of referral work I dislike is that I do miss seeing the healthy patients that come in just for a weight check or just to say hello. The problem is we tend to only see the patients when they need our help, which can sometimes be under very sad circumstances where they can be fighting for their life, which is then put into our hands to save. Once they are all fixed and sent home, they get referred back to their primary care vet, so we very rarely get to see them again. On the other hand, the role can be quite upsetting as well, as unfortunately not all animals can be saved as we are often their last and only hope. There is nothing more heart-breaking than having a patient who has come in, who you have built a strong bond with during their time here and knowing there is nothing more that can be done. Giving them their final goodbye snuggle is always difficult, and as cheesy as it sounds, you never forget your patients, you carry them with you always.
What makes you proud to work at Fitzpatrick Referrals?
I am extremely proud to be a member of the Fitzpatrick Referrals team. I have never worked in a place where the whole team feels like a family, where you are always supported and encouraged to be the best nurse you can be. The work we do here is pioneering, we are making changes to the way people think and see veterinary medicine. We are carrying out surgeries that have never been done before, and that are changing an animal's life for the better, but not only that, prolonging their life in a lot of cases. I love having the opportunity to represent Fitzpatrick Referrals at the National Pet Shows and DogFest, as I love hearing stories from people – and not always clients – about how we have changed their life and their outlook for the better. Working at Fitzpatricks, you know you are a part of something bigger, and there is no better feeling than that.
If you're interested in learning more about referral veterinary nursing roles, read about our Ward Nurse Team and Prep Nurse Team.
Join our nursing team! See our current job openings at Fitzpatrick Referrals.