Q & A with Surgical Intern Dr Dominique Palper
Our dedicated team of interns are qualified veterinary surgeons who join the practice for a 12-month supervised placement to work alongside our specialists and patient care team to advance their skills and experience in small animal referrals.
We caught up with Dominique, who began her internship in September 2021, to share her experience so far.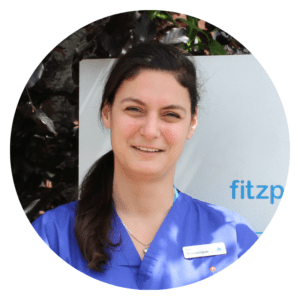 NAME: Dominique Palper
JOB TITLE: Surgical Intern (MRCVS)
UNIVERSITY: Faculty of Veterinary Medicine – Ghent University (Belgium)
HOME: The Netherlands
Which internship programme are you doing at Fitzpatrick Referrals?
Surgical internship in orthopaedics and neurosurgery.
What were the most important factors for you when choosing a practice to apply to?
I was looking for a surgical internship to gain knowledge, skill and experience under the supervision of well-experienced boarded specialists.
What made you decide to do an internship at Fitzpatrick Referrals?
The specialists and their experience, and the fact that Fitzpatrick Referrals is well known for an outstanding level of patient care and compassion. Besides that, I wanted to do research during my internship, and Fitzpatrick Referrals encourages and supports this.
Talk us through a typical day as an intern on your particular programme
How your day looks depends on the rotation you are on. The clinical rotations are clinics (consults), prep (surgery), radiology and hospitalisation. This programme was designed to gain experience in all aspects: from initial consult to postoperative care. A typical day in prep starts with inducing a patient for general anaesthetic, placing a loco-regional block and moving onto theatre for surgery.
During surgery you assist the clinician, this is also a good moment to discuss the procedure and the rationale for decision-making intraoperatively. After surgery, we take the X-rays to check if the results are satisfactory, and if so, we help with recovering the patient and then we move on to the next patient.
You talked about the rotations, what is your favourite and why?
First of all, every rotation has its purpose and I appreciate that there are learning opportunities in every one of them. That being said, I tend to enjoy prep (surgery) most, as you are working with a large team in a busy environment. Every day is different and it requires some quick thinking at the busiest moments. I like to be involved in every step of the anaesthesia and surgery, which makes this my favourite rotation.
How about non-clinical work?
Usually, we start the day with knowledge-enhancing sessions. We have lectures, journal club and Tobias (book) club every week. In these sessions, all interns, residents and seniors are involved. You are expected to actively participate in these sessions, and that makes them even more valuable. To date, I have given two lectures myself (one orthopaedic topic and one anaesthesia topic). I am also involved in a research project with one of the clinicians.
How have you found the internship?
I came here with an open mind, eager to expand my experience and this internship has excelled in that aspect. Not only have my orthopaedic skills and knowledge improved majorly, but I have also gained further experience in anaesthesia and neurology as well. I feel supported and valued as a member of the team. My input is valued and everyone shares their time freely to answer my questions. The clinicians also challenge me to work more and more independently, which I really appreciate.
I feel supported and valued as a member of the team. My input is valued and everyone shares their time freely to answer my questions.
What have been your highlights so far?
Apart from the learning experience, I absolutely enjoy working with the animals. It is very rewarding to see patients improving and feeling more and more like themselves, showing their own quirky personalities. Other than that, I enjoy the fact that there is room for jokes and being silly with my colleagues. We truly work as a team and we refer to ourselves as the 'Fitz Family' and I feel that describes the atmosphere perfectly.
Were there any tough moments?
I feel like tough moments are part of the job, the way we deal with them is more important than the occurrence itself. The most important thought I always keep in mind is to do what is best for the patient, which sometimes means you have to make hard decisions. What makes it easier, is that we have a very supportive and compassionate team, and we always strive to achieve the best results for every patient.
What skills do you feel you have developed as a result of your internship?
During the internship, I have developed plenty of skills, not just orthopaedic. Although the internship focuses on orthopaedic surgery, you also gain loads of experience in anaesthesia, radiology, critical care and neurology. Working alongside many specialists and being trained by them is a privilege. As a result, I am capable of working increasingly more independently. Besides this, working in such a big team as the 'Fitz Family' helps develop interpersonal skills.
What are your plans after you complete your internship?
My aim is to never stop learning and become the best surgeon I can be.
What would you say to a vet considering doing an internship? Do you have any advice as to how they can make the most of it?
The most important qualities I would recommend are: motivation, determination and dedication. If you want to become the best surgeon you can be and if you want to gain a massive amount of experience encompassed in 12 months' time, this is the internship you need to do. Motivation to gain knowledge and skill, determination to learn every day and dedication to stay focused on your goal.
If you want to be surrounded by some of the best surgeons and most compassionate people in the world, this is the place to be.
Fitzpatrick Referrals is currently recruiting for our internship programmes.
See our careers page for more details and our current opportunities.