How I got into the veterinary profession by Prep Auxiliary Emily
We're often asked about the various career pathways into the veterinary profession. One of our youngest team members, Emily Maskell, recently returned to her college to represent Fitzpatrick Referrals at their careers day and to chat to students about the various opportunities in veterinary.
Having joined Fitzpatrick Referrals in 2019 as an auxiliary, she's kindly answered a Q & A about her experience to date, as she continues on her journey to become a registered veterinary nurse.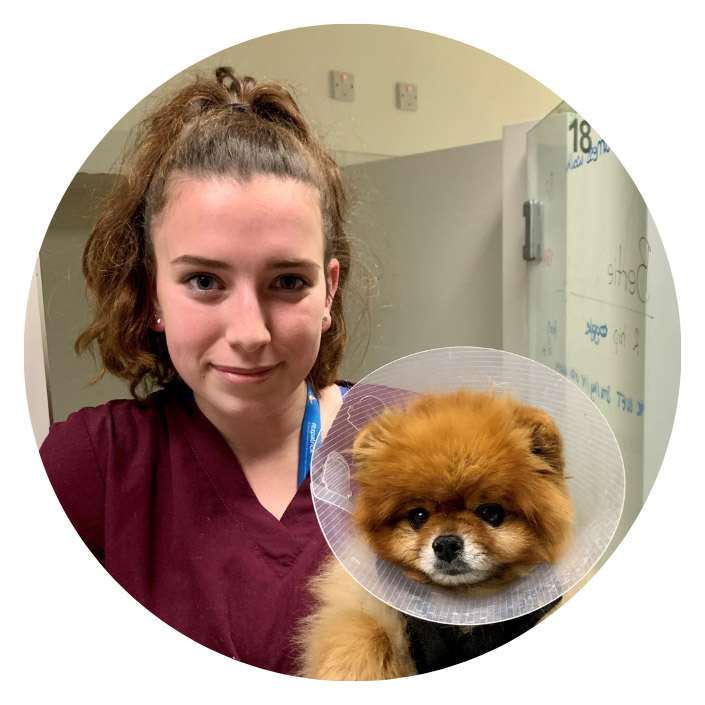 NAME: Emily Maskell
AGE: 21
JOB TITLE: Prep Auxiliary
LOCATION: Fitzpatrick Referrals Orthopaedics and Neurology
JOINED: September 2019
What made you decide to work in veterinary?
I knew from a young age that I wanted to work with animals, and as I got older and began to understand what went on when we had to take a pet to the vet, I realised that it was something I wanted to be a part of. Helping to give animals the voice they don't have to help them, is magical; knowing that you can be a part of helping an animal, is something that I will always love.
Tell us how you came to work at Fitzpatrick Referrals?
In year 10, we had to do work experience and I spent a week at a local vet practice in Godalming, and that's when I knew exactly that I wanted to be a veterinary nurse. After I left school, I attended Godalming College and during my time there, I started as a receptionist at a vet practice closer to home. I spent 18 months there developing my skills, where I went on to do some auxiliary work to help support the vets and nurses.
I finished college with a Level 3 Diploma in Applied Science. Unfortunately, the practice was unable to offer me a student nurse position, so I looked for somewhere that I could progress my career and saw a position for a ward auxiliary at Fitzpatrick Referrals. I came for an interview and was offered the job! This is where my future was set to begin.
Tell us about your role as an auxiliary at Fitzpatrick Referrals?
When I first started in 2019, I was working as a ward auxiliary. As a ward auxiliary, we looked after patients before and after their surgery, feeding the patients, walking them, making sure they were clean and helping the nurses as needed with treatments for the patients. We also looked after the wards making sure that the kennels were clean and that everything was stocked up for the nurses to use.
In January 2021, I started as a rotational auxiliary working in both wards and prep, and in September 2021, I decided to become a prep auxiliary. As a prep auxiliary, we help the nurses and the vets with the patients before and during surgeries. This included holding patients so the nurses can do treatments, setting up theatres and preparing patients for their procedures, and helping to make sure everything is clean and ready to help us look after the patients in the best way we can. We are lucky to have the opportunities to scrub into surgeries with the vets, where we help the vets whilst they are operating.
We work very closely with the nursing team, and we also work closely with the vets, helping them to prepare their patients. You begin to get an excellent bond with everyone you work with, we are like a family; we are so lucky to all be able to work together so effortlessly.
When I come into the practice to start my shift, I always make sure the ask the nurses if they need any assistance with anything and help them with what they need. If they are okay, I will check the theatres to see if I need to get anything for the next case and make sure everything is clean and available. I will continue to ask the nurses and vets throughout the day to see if they need a hand with anything. I do cuddle some patients, in which we see such a large variety, from dogs weighing under 1kg to 125kg!! Every day is different, which I why I love working here, there is always variety, each case is personal and requires their own care and love, which I find so special.
What are your favourite aspects of your job?
I love coming to work every day, it doesn't feel like a job, because I love doing it, I love being in the practice, ready to help at every opportunity. I love spending time getting to know the patients, sitting with them, giving them love and letting them know that everything we be okay, and that we are just here to help them to feel better so they can go back to their families.
I also adore discharging patients with the vets, seeing how excited patients and families become when we reunite them, is the most heart-warming feeling, nothing compares.
What skills and knowledge do you feel you have developed since becoming a veterinary auxiliary?
I am very lucky to have already spent more than four years working in the veterinary industry. I have learnt how to work with all sorts of patients, and how to cater to their needs to give them the best care we can. I have also become a lot more confident, as when I started here, I had just turned 18, so I was still young, and very shy. Almost three years on, I know that I have become more confident and that has helped me to work closely with the vets, nurses, and all our patients. I have developed skills to help me identify when one of our patients is feeling nervous and upset about being here and have learnt how to make sure they feel safe with having people around.
Do you have any animals of your own?
Yes, I am very lucky to have nine animals. I have two beautiful rescue dogs, a seven-year-old Hungarian Vizsla called Afonya, and a two-year-old German Shepherd called Sabot.
I also have three rescue cats, Damon and Lexi are both nine, and Monty is 14. To add to my rescue pack, I have two rabbits, Hercules who is seven, and Thumper who is five. We recently welcomed two new members, two lovely rats who are almost four months old, Serpico and Spaghetti.
My first dog was called Harvey, a Labrador cross Hungarian Vizsla and he taught me lots about dogs, and he is the reason I continued to have dogs after he passed.
Tell us about your future career plans and pathway that you're following to become a registered veterinary nurse?
In February, I was offered a student veterinary nurse position here at Fitzpatricks, where I will work for four days a week and be at a college, called MYF, for one day a week. To become a Registered Veterinary Nurse, you can either go to university or college, which is lovely to be able to choose as some people, like myself, struggle with the idea of university, so it is nice to be able to have a choice to go to a college to be able to study.
What advice would you give to any young people considering a career in veterinary?
To anyone considering a career in veterinary, speak to your local primary care vets about doing some work experience, to have a feel for what it is like behind the scenes, with surgeries and speaking to clients. Getting some work experience can help you to decide if this is something you would love to be doing, and is a great addition to a CV. Ask lots of questions, and visit both universities AND colleges, to get a feel as to what would be the best route for you.