VOS Spring Congress 2014
The annual American Veterinary Orthopaedic Society (VOS) spring meeting this year was combined with the World Veterinary Orthopaedic conference (WVOC) and took place in Breckenridge Colorado March 1st to 8th 2014.
Noel has been attending and speaking at VOS for the past 15 years and shares some special memories. 
"I remember the very first time I lectured there, I was very nervous and up all night writing the lecture as usual," he recalls, "there's just never enough time somehow"; "anyway, I sped through the lecture at a million miles an hour and at the end Dr Gretchen Flo got up to ask a question. I was terrified, as she was one of the heroes of veterinary surgery and I had read her book cover to cover. She slowly walked to the microphone and asked "Dr Fitzpatrick, we were all just wondering down the back – what kinda coffee do you drink?"
"From that moment, I felt accepted by the group at VOS and the organisation became very much a spiritual home for me. Hilariously, this time at my first lecture, Dr Flo came over to say hi as I was walking up to take the podium, and knocked over the cup of coffee I was carrying. As it splashed all over the floor, she looked down and exclaimed 'Oh dear, I'll go get you a coffee then shall I – what kind of coffee do you drink?' and so the clock had come full circle. I started out as a neophyte wannabe Orthopaedic surgeon all those years ago at VOS, and now I was about to give my first lecture as a newly appointed Professor, a newly boarded specialist of the UK and American Colleges of Veterinary Surgeons, and Dr Gretchen Flo brought me a cup of coffee as I walked onto the podium. I was just a little bit teary!"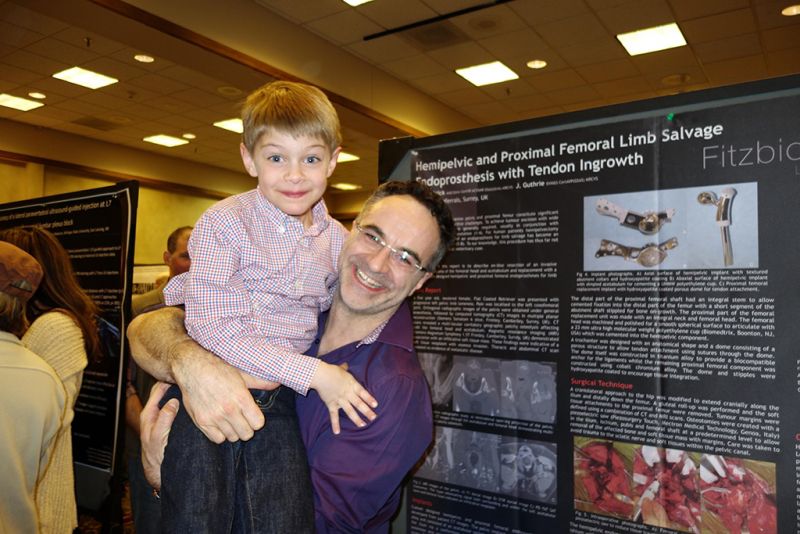 "I have forged lifelong friendships at VOS and went on to serve on the board for three years recently. This year was extra special, because I attended with one of my dearest friends, Michael Kowaleski, assistant Professor at Tufts Cummings school of Veterinary medicine and his family. Mike and his wife Lisa entrusted me with the ultimate family honour of being godfather to their son Nicholas when he was born, and for the first year, at the ripe old age of six, he was interested in everything. He helped me present my posters at the scientific session, which was great fun – and he even drew his own poster full of animals, some real and some imagined. My personal favourite was the giant black Dog-fish star in the sky who has a GPS tracker so that Nicky can know at any time where "uncle Noel" is in the world. Lucky me!!!" 
Of course the meeting isn't all science – it's a skiing holiday with a bit of science thrown in to make everybody feel a little less guilty about risking life and limb hurdling down a snow-strewn mountain – or in Noel's case, sliding down a mountain on his behind.
At this meeting Noel presented several lectures including the use of the FITS-Fitzateur for Lumbo-sacral distraction fusion, the use of DOME osteotomy for correction of growth deformities, and revision of complex total hip replacements. We presented two posters – one on a new way to replace half the pelvis and the top of the femur with endoprostheses when the pelvis has cancer; and a second to look at the clinical outcomes after application of our new FITS-Fitzateur implant system for dogs with painful lower back disease.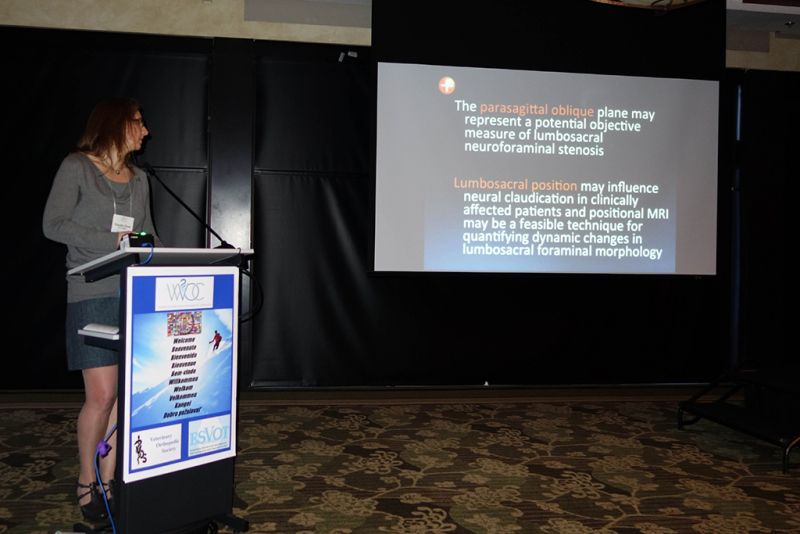 Claudia Zindl is a Research Fellow sponsored by Fitzpatrick Referrals at The Ohio State University and she presented her work on Biomechanical testing of the FITS-Fitzateur system and also on specialised MRI imaging of the Lumbo-sacral spine. One of our previous research Fellows, Lauren Pugliese also presented some of her research work from The Ohio State University on total hip replacement.
Fitzbionics held its first laboratory to train surgeons on how to perform the FITS-Fitzateur technique – and it was very well received. Both Claudia and Noel presented at this laboratory meeting. Fitzbionics also sponsored the welcome reception and the international ski-race.
A good time was had by all – both socially and academically – roll on VOS 2015.