Publication success for the neurology team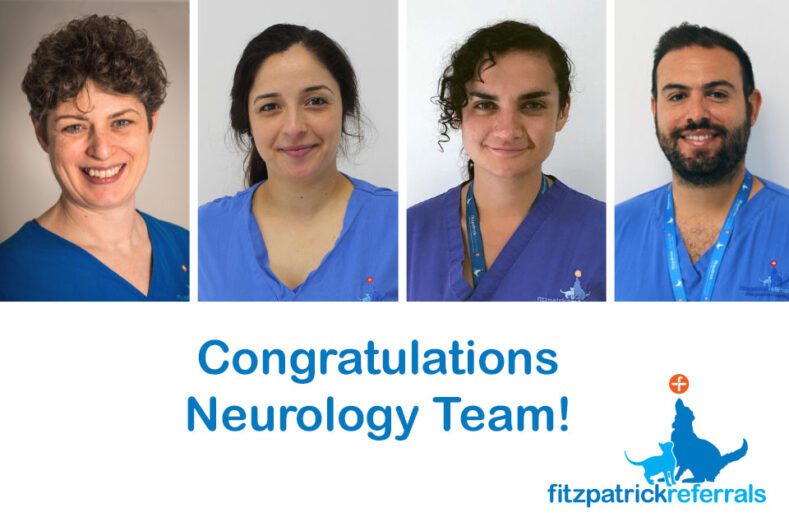 Congratulations to Fitzpatrick Referrals' neurology team on their recent publication success.
Over the last four weeks, the talented team has celebrated not one but five publications! We are very proud of their hard work and dedication to research, and for sharing their learning with the wider veterinary community.
Chief of Neurology Professor Clare Rusbridge, BVMS (Hons) PhD DECVN FRCVS
An article in Life as part of the special issue 'New Horizons in Veterinary Neurology':
Cirovic S, Rusbridge C. Slosh Simulation in a Computer Model of Canine Syringomyelia. Life 2021, 11, 1083. https://doi.org/10.3390/life11101083
Read More
Neurology Registrar Joana Tabanez, DVM MRCVS
A case report on how immunohistochemistry helps to determine a rare spinal cord tumour:
Tabanez J, Beck S, Driver C, Rusbridge C. Spinal ectopic choroid plexus papilloma in a cat. Journal of Feline Medicine and Surgery Open Reports. July 2021. doi:10.1177/20551169211048464
Read More
An evaluation of a novel dorsal-cemented technique for atlantoaxial stabilisation in 12 dogs:
Tabanez J, Gutierrez-Quintana R, Kaczmarska A, José-López R, Nadal V.G, Rotter C, Leblond G. Evaluation of a Novel Dorsal-Cemented Technique for Atlantoaxial Stabilisation in 12 Dogs. Life 2021, 11, 1039. https://doi.org/10.3390/life11101039
Read More
Neurology Resident Natalie West, BVMS MRCVS
A case report showing that rare neurological disorders can lead to a fascinating insight into metabolic pathways and also cerebellar and brain stem nuclei circuits.
West N, Matiasek K, Rusbridge C. Olivopontocerebellar degeneration associated with 3-hydroxy-3-methylglutaric aciduria in a domestic shorthair cat. Journal of Feline Medicine and Surgery Open Reports. July 2021. doi:10.1177/20551169211037899
Read More
Neurology Resident Diego Nicolás Alza Salvatierra, Ldo Vet MRCVS
Poster presentation at the 33rd ESVN-ECVN Symposium 2021 and case report:
Alza Salvatierra DN, Herrera Linares ME, Motta L, Martinez M. Ultrasound-guided erector spinae interfascial plane block for spinal surgery in three cats. Journal of Feline Medicine and Surgery Open Reports. July 2021. doi:10.1177/20551169211043814
Read More